Events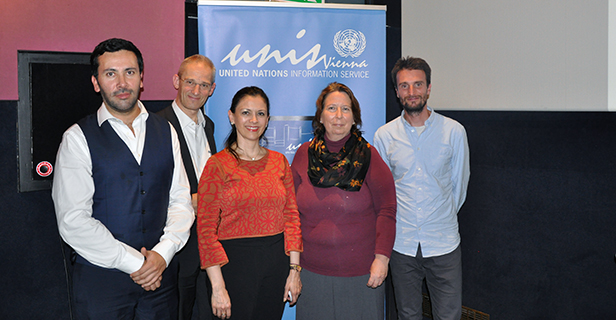 Moving from war to peace: Ciné-ONU Vienna Film Screening of 'To End a War'
VIENNA, 18 September 2017 - A film exploring how to move from war to peace and what it takes both strategically and spiritually for a nation of 50 million people to go from hatred to forgiveness was this month's Ciné-ONU Vienna film screening.
To mark International Day of Peace (21 September), the documentary "To End a War" was shown, in partnership with the Permanent Mission of Colombia to the United Nations (Vienna), this  human world (THW) Film Festival and Topkino.
The 52-year conflict between the Colombian Government and the Marxist guerilla FARC-EP was the longest running civil war in Latin America. Since September 2012 the Government and FARC held Peace Talks behind closed doors on neutral ground in Havana, Cuba. With unprecedented access to both political leaders, President Juan Manuel Santos and FARC Chief Commander Timochenko, this intimate observational documentary film goes behind the scenes during this profound moment in Colombia's history.
Before the screening a short message from Ambassador Jaime Cabal was delivered by the Deputy Permanent Representative of Colombia, Martha Alarcón.
The well-attended screening, was followed by a panel discussion with Irmgard Ehrenberger, Chief Executive Director of the International Fellowship of Reconciliation (IFOR), Austria; Andrés Nuñez Rincón, Programme Officer, Regional Section for Latin America and the Caribbean (RSLAC) at the United Nations Office on Drugs and Crime (UNODC) and Jan Pospisil, Research Fellow, Political Settlements Research Programme (RSRP), Edinburgh Law School, at the University of Edinburgh, moderated by the Director of the United Nations Information Service (UNIS) Vienna, Martin Nesirky.    
All the panellists agreed that the film was very impressive and that Colombia is a great example showing that it is possible for everyone to come together, talk and reach an agreement. Andrés Nuñez Rincón from UNODC said that what happened in Colombia reflects the complexities involved in a peace process. Rincón also pointed out that Colombia is not facing their problems alone and that the UNODC is supporting and building the necessary elements to establish peace in the country.