Events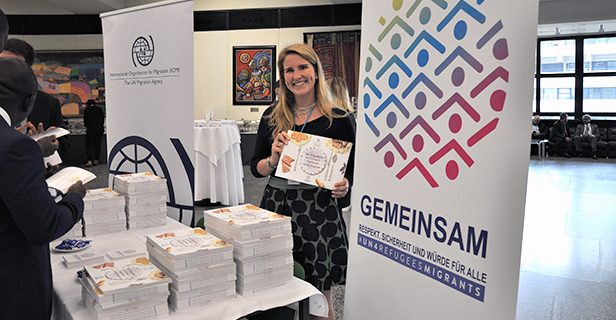 IOM Book Launch brings Culinary Traditions to the Vienna International Centre
VIENNA, 11 September 2017 - "This book is for those who would like to see what the background of these dishes is. All of the recipes came through a journey of migration. The book is about describing their journey," said Argentina Szabados, Regional Director for the International Organization for Migration (IOM) who was the host for the book launch in the Vienna International Centre on Monday, 11 September.
The cookbook "The Migration of Culinary Traditions in the Region" is a collection of regional recipes from South Eastern Europe, Eastern Europe and Central Asia, produced by the International Organization of Migration (IOM) Regional Office in Vienna. The launch was organized by IOM in cooperation with the United Nations "Together" Campaign.
Any national cuisine is a result of many centuries of contributions by the different people, who, through trade and migration, have brought new ingredients and ways of cooking. The aim of the recipe book is to celebrate the benefits of migration in our daily lives and the many ways in which it builds connections and promotes exchange. The recipes reflect the rich cultural heritage of each country in the region and their inter-connectedness; they each have a story to tell - a story of tradition, diversity and migration.
At the launch Martin Nesirky, the Director of the United Nations Information Service Vienna, emphasized the importance of events like these to support the "Together" Campaign: "Today's event is closely linked with the principles of the Together campaign which promotes activities that help foster diversity, non-discrimination and acceptance of refugees and migrants all over the world. These events include film screenings, book readings, workshops, interactive seminars, sporting events, lectures - and now recipe books too."
Following the remarks there was a reception with regional food from the cookbook from countries in South-Eastern Europe, Eastern Europe and Central Asia.