Events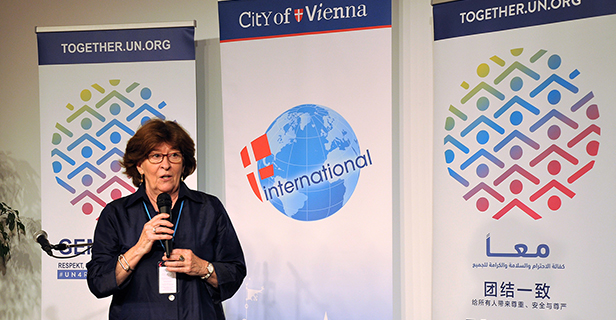 Integration in Vienna in action
Participants attending General Assembly thematic session attend Together side event at Brunnenpassage
VIENNA, 4 September 2017 - "Vienna has every reason to be proud. It celebrates not only its magnificent past but also its willingness to embrace the future, a future of inclusion of immigrants and refugees. This is part of what the Together campaign is about," said Louise Arbour, UN Special Representative for International Migration, at a special side event at the ArtSocialSpace Brunnenpassage on 4 September.
More than 120 UN-delegates and representatives from 13 different Non-Governmental Organizations (NGOs) and initiatives on migration and integration in Austria joined the informal get-together in the culturally diverse Brunnenmarkt to meet and exchange ideas and lessons learned from successful integration projects and initiatives. Before the event, participants were invited on a historic tram ride through the city to hear more about the city highlights and Vienna's urban planning initiatives for integration.
The event was organized by the City of Vienna in cooperation with the United Nations Information Service (UNIS) Vienna in support of UN "Together" campaign. It was a side event to the fifth informal thematic session of the UN General Assembly for the Global Compact for Safe, Orderly and Regular Migration, taking place in Vienna from 4 to 5 September.
At the side event, Jürg Lauber, Permanent Representative of Switzerland to the United Nations and Co-facilitator of the preparatory process leading to the adoption of the Global Compact for migration in 2018, said: "The actual implementation of the Global Compact on international migration will happen not in meeting rooms but at grassroots level. Here at Brunnenpassage, we have the opportunity to meet and exchange ideas with people who do this fantastic work every day."
Co-facilitator and Permanent Representative of Mexico to the United Nations, Juan José Gómez Camacho, underlined this by saying: "The Together campaign is a key outcome of the New York Declaration because at the end of the day, it is all about people."
Speaking on behalf of the City of Vienna, Jürgen Czernohorszky, Executive City Councillor for Education, Integration, Youth and Personnel, expressed his full support for the Together Campaign and appreciation for the important work done by the different NGOs and integration initiatives to help and support refugees and migrants in Vienna.