Events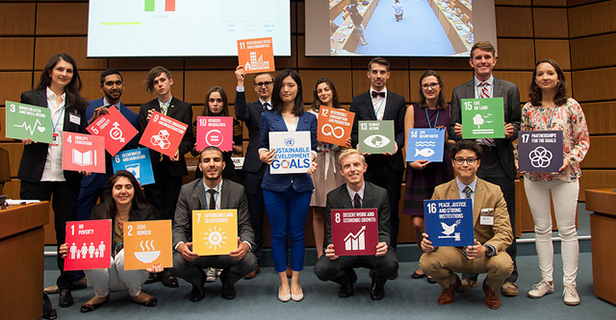 Young aspiring diplomats discuss world affairs at 23rd Vienna International Model United Nations (VIMUN)
Students and young graduates between the ages of 18 and 35 put their diplomatic skills to the test when they met in the Vienna International Centre from 30  July to 3 August for a United Nations simulation exercise.
About 250 students from more than 40 nations participated in this year's Vienna International Model United Nations (VIMUN) Conference and discussed topics such as "Cyber Security and Digitalization", "Preventing Violence and Discrimination based on Sexual Orientation and Gender Identity", "The Situation in South Sudan", "Human Trafficking and Migrant Smuggling" and "Sustainable Energy as a Boost for Growth" in five different committees. VIMUN participants have the advantage of gaining an authentic UN experience because the entire event takes place in UN conference rooms at the VIC.
While assuming the role of a diplomat of a country other than their own and negotiating on its behalf, the students and young graduates not only gained an insight into a UN diplomat's work and made practical use of their political knowledge, but also developed leadership, research, writing, public-speaking and problem-solving skills and acquired experience in consensus building, conflict resolution and cooperation.
Michael Pfeifer, President of the United Nations Youth and Student Association of Austria - Academic Forum for Foreign Affairs (UNYSA-AUSTRIA-AFA) and the President of the Simulated Human Rights Council Committee, Mohamed Sakr, welcomed the Model United Nations delegates to Vienna together with UNIS Vienna Deputy to the Director Sonja Wintersberger, who in her opening remarks highlighted the 17 Sustainable Development Goals, encouraging participants to make the Goals part of their discussions and their committee decisions.
The response from the participants at VIMUN was overwhelmingly positive. "I really liked the fact that the committees were smaller here than at most of the conferences that I have been to and so we were actually able to build consensus," said Bailey Craig, a participant from the United States. The participants agreed that VIMUN would help young people open their minds and work together. "Meeting people in a place like this, during an event like VIMUN is great because we are here for the same purpose and it gives you a platform to come together from different cultures and communicate and engage on a much deeper level", said Raj Vikneswaran from Malaysia. 
VIMUN 2017 was prepared by a team of student volunteers from different fields and countries under the guidance of Michael Pfeifer.
The simulation conference, which is part of a worldwide series of Model United Nations (MUN) meetings, is organized by the UNYSA-AUSTRIA-AFA and hosted by the United Nations Office at Vienna (UNOV).