Events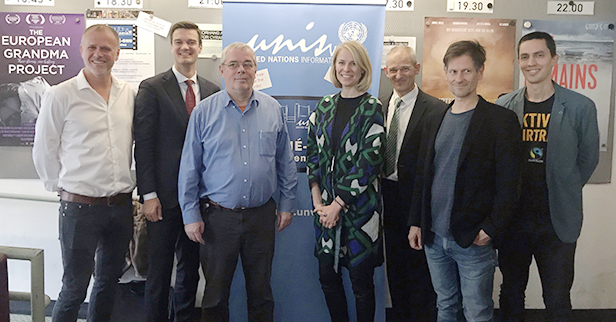 "The Chocolate Case" - Ciné-ONU Vienna screening raises awareness of child slavery in cocoa industry
On 13 May 2019, the film 'The Chocolate Case' was shown to mark 100 years of the International Labour Organization (ILO) and the 30th anniversary of the Convention on the Rights of the Child. The United Nations Information Service (UNIS) Vienna in cooperation with this human world film festival and the Embassy of the Netherlands in Austriaand its Permanent Representative to the OSCEbrought the revealing detective story to Topkino as part of Ciné-ONU Vienna.
The 2016 documentary by director Benthe Forrer tells a story of three Dutch journalists who fight child slavery in the cocoa industry. With a large dose of humour and an unrelenting perseverance they managed to bring the first self-proclaimed slave-free chocolate to the market in the Netherlands, called Tony's Chocolonely. As of 2018, its market share in Netherlands has surpassed multinational corporations such as Verkade, Mars or Nestlé.
As usual, the screening was followed by a panel discussion with Ynzo Van Zanten, Chief Evangelist of Tony's Chocolonely, Klaus Werner Lobo, author of 'The Black Book of Corporations', Florian Ablöscher from FAIRTRADE school campaign FAITRADE AUSTRIA, Robert van Otterdijk,  the Agro-Industry Officer at the Regional Office for Europe and Central Asia, Food and Agriculture Organization (FAO) and Anna Tsitsina, Crime Prevention and Criminal Justice Officer at the Human Trafficking and Migrant Smuggling Section, United Nations Office on Drugs and Crime (UNODC).
According to Klaus Werner Lobo, whose book has inspired emerging companies like Tony's Chocolonely, the reason for the existence of modern slavery is capitalism. Florian Ablöscher from FAIRTRADE Austria agrees: "The farmers who produce the cocoa beans don't get a fair price for them. (…) We are in the capitalistic system, in which the international corporations are getting larger and their bargaining power increases, so they can set the price for the cocoa."
Finally, Ynzo van Zanten representing Tony's Chocolonely stated: "We as a company are also part of that capitalist system, but we want to change it from within to show that it can be done differently."