Events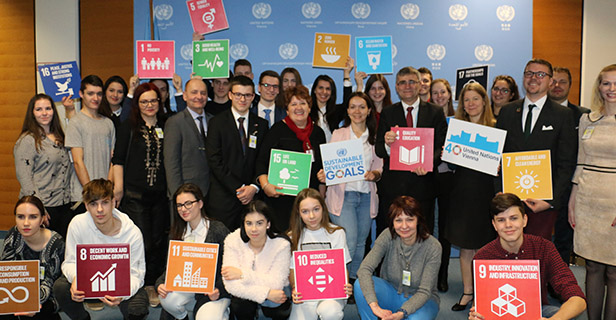 Slovak youth workers participating in a workshop on "Engaging young people with the Sustainable Development Goals"
A group of 28 dedicated Slovak youth workers came to the Vienna International Centre for a workshop on "Engaging young people with the Sustainable Development Goals". It was organized by the United Nations Information Service (UNIS) Vienna, in cooperation with IUVENTA. The Slovak Institute of Youth (IUVENTA) is a state institution directly managed by the Ministry of Education, Science, Research and Sport of the Slovak Republic. The subject of its activity is working with youth outside of schools and families and youth policy in and outside Slovakia.
The students were welcomed by Slovak Permanent Representative to the UN (Vienna) Ambassador Peter Misik and Deputy to the Director of UNIS Vienna Sonja Wintersberger. Ambassador Misik congratulated the participants' commitment to advocate for a more sustainable and equal world.
The workshop started with a guided tour through the Vienna International Centre, to get a glimpse of how 193 Member States work together to promote peace, sustainable development and human rights across the globe. Thereafter the youth workers presented their own projects, in which they sought to find innovative ways to promote a particular Sustainable Development Goal in their own communities. For example, two students from the high school Janka Kráľa in Zlaté Moravce, wanted to promote and highlight the importance of biodiversity in their country. So they labelled all the plants and trees on their school premises with a detailed description of each species.
One of the guest speakers was Billy Batware, who works for the United Nations Office on Drugs and Crime (UNODC). In his presentation he talked about how UNODC engages young people with the Sustainable Development Goals through different global programmes and initiatives pertaining to drugs and crime, such as the UNODC Youth Initiative, and the Education for Justice initiative.
Subsequently the students got some insight about how to use the teaching resources of the "World's Largest Lesson - Global Goals" which they can pass on to their own students in Slovakia. They also heard about how the Sustainable Development Goals are being promoted through social media channels by UNIS Vienna and the Chief of Visitors Service, Johanna Kleinert, outlined the various tour options for children and young people that are run by UNIS Vienna.