Events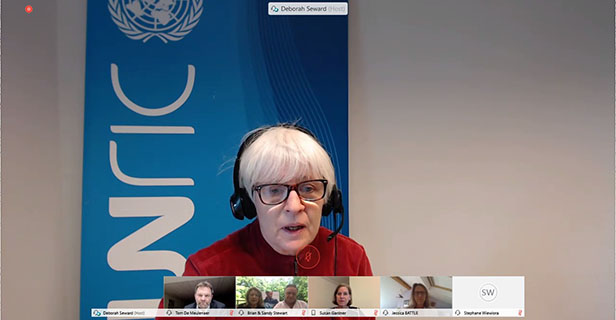 Ciné ONU goes online for the second time to mark World Environment Day
Ciné-ONU Brussels, Geneva and Vienna teamed up again for a second joint online event with the screening of Rob Stewart's award-winning movie 'Sharkwater Extinction' on the massive illegal shark finning industry and the political corruption behind it, to mark World Environment Day.
The online panel discussion on 5 June featured Sandy Campbell and Brian Stewart, the film producers and parents of Rob Stewart, Susan Gardner from United Nations Environment (UNEP), Jessica Battle from WWF, and Tom de Meulenaer from the Convention on International Trade in Endangered Species of Wild Fauna and Flora (CITES). The discussion was moderated by the Director of United Nations Regional Information Centre (UNRIC) in Brussels, Deborah Seward.
Sandy Campbell explained the problem of mislabelled shark products and highlighted the importance of consumers keeping themselves well-informed: "There is a mystification about sharks being fed to us; we have to make the consumer aware, so the consumer will stop the demand and will ask intelligent questions." Susan Gardner said that we have to stay optimistic about the marine ecosystem's recovery: "If we take pressure off, we will lose some genetic diversity, but over time, if you let nature rebound, it can heal. This is the hope we have."
The panellists agreed that a holistic approach to help the species is needed which includes more governance up and down the supply chains, the empowering consumers and increasing awareness among them, sustainable, legal and traceable fishing, as well as the protection of breeding and nursery areas.
For more information about the event and to listen to the recording of the online discussion visit the UNRIC web page:  https://bit.ly/3h9nnUD