Events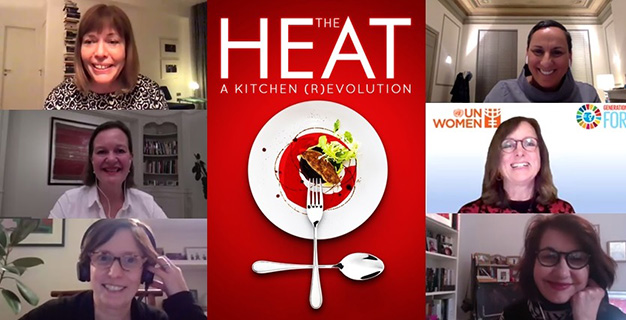 Ciné-ONU Brussels, Vienna and Geneva mark International Women's Day 2021 with an online screening of "The Heat: A Kitchen (R)evolution"
To mark this year's International Women's Day (8 March) Ciné-ONU Brussels, Vienna and Geneva - in partnership with UN Women, UNFPA, and the European Commission - joined forces to organize an online screening of the documentary "The Heat: A Kitchen (R)evolution", which exemplifies the struggles of female chefs in the culinary industry.
In the world of cuisine and culinary arts, inequalities are still striking. While women carry the bulk of domestic work - including cooking - haute-cuisine and restaurants remain strongly male-dominated. The documentary, directed by Toronto-based award-winning film director Maya Gallus, captures the challenges - less than 10% of top positions are held by women.
Several female chefs (current and former) gave insights into those challenges and obstacles in their career paths. While some experienced rude behaviour, others spoke of  the lack of respect they had to face when taking the leading role in a restaurant.
The film was introduced by UNFPA Brussels Office Director Sietske Steneker and followed by a panel discussion with the film director, French and Brussels-based Michelin star chef Isabelle Arpin, UN Women Brussels Office Director Dagmar Schumacher, and Chiara Adamo, Head of the Gender Equality Unit at the European Commission. UNRIC Deputy Director Caroline Petit moderated the online event, which was attended by 600 participants.
Ms.  Gallus commented on her movie: "We're seeing more women take charge at the helm of restaurants. In my opinion that is strongly contributing to a healthier and less toxic workplace whether it's the way women are socialized or because women have to work harder to get there in the first place."
Isabelle Arpin owns the restaurant "Isabelle Arpin" in the heart of Brussels and is also godmother of the organisation Free Go Solidarity where she works with volunteers throughout the year to help families in need: "It doesn't make a difference for me if I cook in my restaurant or for people in need, I always cook with the same passion and the same love."
Dagmar Schumacher shared  some insights from a recent study: "We did a study of 115 task forces dealing with COVID-19 measures. Out of these 115, 85% are run solely by men. As we have heard it is women who are most affected. The ones who decide what measures should be taken are not those who are really affected by the crisis." She also emphasized the importance of female role models: "In 2021 we have 22 women who are heads of government or heads of states. In 119 countries there has never been a female leader. That influences what girls think they can become. If girls do not see female leadership, they also do not see role models. It will make their journey difficult. We need to change that."
Chiara Adamo has a clear vision on how progress can be achieved: "One way we're going about it is to really empower the wealth of innovative women enterprises, particularly small businesses. We also do this through innovative finance by making sure that banks are incentivized to give loans to female-led enterprises."
Women's full and effective participation and leadership in all areas of life drive progress for everyone. Yet women are still underrepresented in public life and decision-making, as shown in the UN Secretary-General's recent report.
Under the theme "Women in leadership: Achieving an equal future in a COVID-19 world", International Women's Day 2021 celebrated the tremendous efforts by women and girls around the world in shaping a more equal future and recovery from the COVID-19 pandemic and highlights the gaps that remain.