Events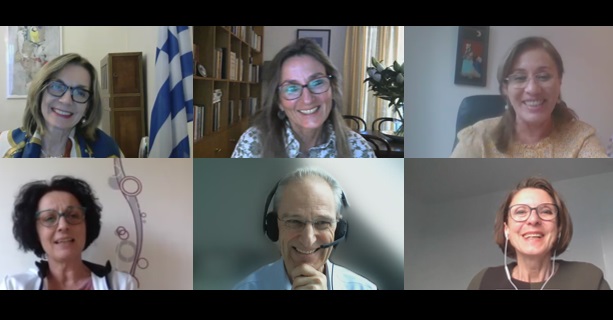 Ciné-ONU Vienna virtual screening of "When Tomatoes Met Wagner" to mark International Mother Earth Day 2021
International Mother Earth Day on 22 April reminds humanity that our planet is under great strain. Indeed, Secretary-General António Guterres said this year the world is at a tipping point and we must nurse Earth back to health.
To highlight how small initiatives can have an impact, Ciné-ONU Vienna presented the documentary "When Tomatoes Met Wagner" by Marianna Economou in cooperation with the Permanent Mission of Greece to the United Nations (Vienna), shedding light on sustainable agriculture.
The increasing loss of biodiversity and the threat of extinction for 31,000 species require immediate action. It is vital to support local economies and sustainable production to reduce environmental harm, boost biodiversity and ensure quality of life.
The film takes place in Elias, in rural Greece, showing how two cousins seek to revitalize their village and its 33 inhabitants by expanding their business with organic tomatoes. With the assistance of Wagner's compositions and Greek traditional music, Alexandros and Christos want to create an optimal growing environment for their organic tomatoes by playing music on loudspeakers in the fields. Alexandros is a source of entertaining anecdotes and a heart-warming approach to Elias's remaining population, notably some of the older women who help process the tomatoes. It is a humorous, bittersweet movie that reflects the triumphs and struggles of small-scale sustainable businesses.
Following the screening of the documentary, Martin Nesirky, Director of the United Nations Information Service (UNIS) Vienna, invited film director Marianna Economou, Catherine Koika, Ambassador of Greece to Austria and Permanent Representative to the United Nations (Vienna), Susanne Maier, CEO of BIO AUSTRIA, Gabriele Obermayr, Senior Adviser on Biodiversity at the Austrian Federal Ministry for Climate Action, and Tania Santivanez, Agricultural Officer at the Food and Agriculture Organization (FAO) of the United Nations, to join a panel discussion and engage with the audience.
Marianna Economou said she was inspired to make the film after seeing numerous abandoned villages as she toured her native Greece. Marianna expressed her sadness and asked: "Who is going to produce food", and later she also asked, "Where are the agricultural policies?". She also emphasized how people feel abandoned in rural Greece. However, she also said the inhabitants of Elias continued producing and exporting their goods.
Tania Santivanez identified patterns: "Especially middle and low-income countries face similar problems in terms of capacity development, productivity, access to technology, access to credit, access to insurance, access to market and infrastructure."
"Our total impact to nature suggested people require 1.6 earths to maintain the current world's living standard," Gabriele Obermayr noted.
Courage is the most important thing to make a difference in society, Susanne Maier said. She also added that willingness to try new things is required in the organic culture.
Ambassador Koika closed the discussion with an important message: "I think it is a film that made us reconsider, thus reflect again on an issue that should unite us and try to make us go ahead for a change."