Events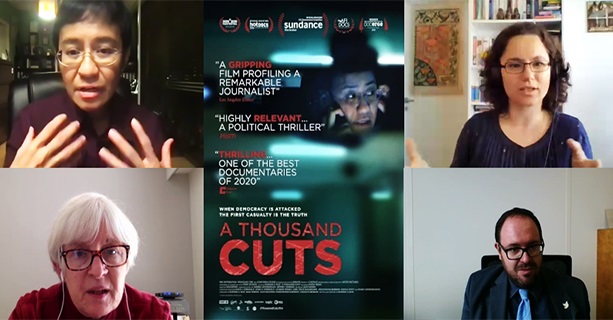 Ciné-ONU Geneva, Brussels, and Vienna virtual screening of "A Thousand Cuts" – a documentary about journalism, freedom of speech and democracy
Ciné ONU Brussels, Geneva and Vienna joined forces to co-host a screening of the multiple award-winning documentary "A Thousand Cuts" by Ramona S. Diaz followed by a discussion. The grappling documentary tells the story about Maria Ressa, journalist and co-founder of the online news site Rappler in the Philippines and her investigative journalism fighting for truth and democracy against social media disinformation campaigns in her country.
Recently awarded with the UNESCO Guillermo Cano Price for her work and engagement for press freedom, Ressa also joined the online discussion after the film, together with Laura Bretea, Policy Officer, Democratic Governance, European Commission DG International Partnership (INTPA), and Guilherme Canela De Souza Godoi, Chief of the UNESCO Freedom of Expression and Safety of Journalists Section. The event was moderated by Deborah Seward, Director of the UN Regional Information Centre (UNRIC) Brussels, and opened by Louise Haxthausen, Director of the UNESCO Liaison Office in Brussels, who also mentioned that this screening is part of the Social Media 4 Peace initiative.
Ressa warned about the growing trend of misinformation campaigns on social media and the threat to democracy, adding: "What is local is global." So, what can the international community do to counter this trend? "The journalists' weapon, the only defence we have, is to shed light," Ressa pointed out. "We consider journalists as human rights defenders," agreed Bretea and highlighted the EU's protectdefenders.eu programme. Canela De Souza Godoi added that the strength of the United Nations is to bring as many stakeholders to the table as possible to boost multilateral efforts in prevention, protection, and prosecution.