Events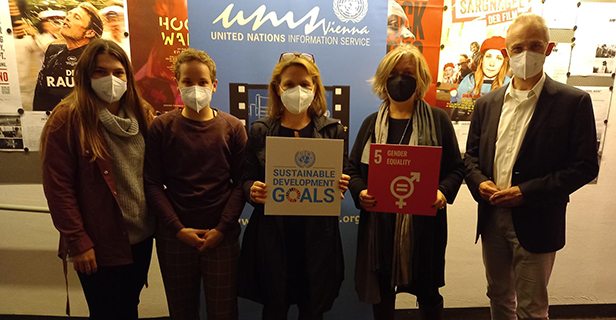 Film highlights the role of sport in girls´ empowerment - Ciné-ONU Vienna film screenings of 'Raise the bar' on International Day of the Girl Child
"The strength, health and empowerment of the world's girls is a matter for every single day of the year."
This message shared by the UN Secretary-General António Guterres to mark this year's International Day of the Girl Child (read the full statement) resonated with the documentary "Raise the Bar" screened by Ciné-ONU Vienna on 11 October 2021 at the local arthouse cinema Top Kino Vienna and on 18 October at the Vienna International Centre (VIC).

The documentary tells the story of an Icelandic girls basketball team that is trained by the ambitious and controversial coach Brynjar Karl Sigurðsson. Through an intense training programme he pushes them to improve their skills and build up strength – on and off the basketball court. But when the team protests about not being allowed to play against boys´ teams by taking off the medals they receive in an girls-only tournament they spark a discussion in Iceland about cultural norms in basketball and beyond.
The first Ciné-ONU Vienna film screening of "Raise the Bar" at Topkino was organized by the United Nations Information Service (UNIS) Vienna in cooperation with the Permanent Mission of Iceland to the United Nations (Vienna) and this human world film festival. The screening was followed by a discussion with panellists Lisa Zderadicka, Austrian National Basketball Team Player, Lena Schoegl, Social Worker und Life Goals Trainer at the NGO "Kicken ohne Grenzen", and Georgia Dimitropoulou, Crime Prevention and Criminal Justice Officer at the United Nations Office on Drugs and Crime (UNODC). The discussion was moderated by UNIS Director Martin Nesirky. Before the screening, Ambassador Kristín A. Árnadóttir, Permanent Representative of Iceland to the UN (Vienna), delivered opening remarks.
During the panel discussion, Zderadicka said: "There are definitely differences in the way girls and boys are treated in sports." She particularly highlighted that girls "did not get the same opportunities" that boys received in the team sport. But she also noted that there were changes, since last year a woman´s national team was re-established for the first time in seven years. Zderadicka also pointed out how sports can have a positive effect noting how the girls in the movie started to help each other in their training, a "good life skill that you can use later on".
Schoegl said that the documentary showed that: "It is about more than just a sport." She saw parallels to her own work at "Kicken ohne Grenzen", "using the power of sport to also transport social skills", even though their training methods differ from those shown in the documentary. For instance, they train the girls to be trainers themselves: "They learn the ability of decision-making or goal setting […], those are life skills which help them to become more empowered."
Dimitropoulou said: "There is a lot of awareness these days that sports can contribute to many Sustainable Development Goals, including in Violence and Crime Prevention", such as sports-based values such as respect, tolerance and non-discrimination. Dimitropoulou also said: "Sports also offer a platform where you engage a diverse group of people as participants, but also as spectators, and they can really challenge these types of stereotypes and normative beliefs related to gender, also linked to gender-based-violence."
The Q&A session also focused on the issue of children´s rights and abilities to make their own choices. UNIS Director Martin Nesirky said: "Young people's voices need to be a part of the process much more than they have been", pointing the audience to the recently published "Our Common Agenda" report of Secretary General António Guterres and its focus on youth engagement.
The second screening of the documentary at the Vienna International Centre (VIC) on 18 October was also co-hosted by the Permanent Mission of Iceland to the United Nations (Vienna) and followed by a Q&A with Ambassador Kristín A. Árnadóttir and UNIS Director Martin Nesirky.