Events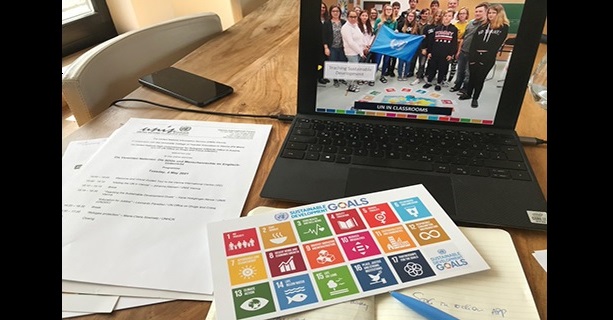 Teachers´ Workshops on how to teach the Sustainable Development Goals in the classroom
The Sustainable Development Goals (SDGs) are a call for action by all countries for peace and prosperity, while protecting our planet now and in the future. To implement the 17 Goals by 2030, as agreed by all 193 UN Member States in 2015, it requires knowledge, commitment and empowerment at all levels to fight inequality, poverty and climate change as well as tackle biodiversity loss. Teachers play a crucial role in inspiring especially young people to act and make the Goals a reality.
With this in mind, the United Nations Information Service (UNIS) Vienna joined forces with the University College for Teacher Education Vienna (PH Wien), the UN High Commissioner for Refugees (UNHCR) Office in Austria and the UN Office of Drugs and Crime (UNODC) to offer two online workshops for teachers in Vienna. The aim of the workshops, attended by 15 high school teachers from Vienna schools, was to present fun and engaging ways to teach the SDGs and related topics.
The programme featured a virtual guided tour of the Vienna International Centre, which is closed for external visitors during the COVID-19 pandemic, and lectures by UN Vienna staff. During the workshop the participants had the chance to learn more about the work of the UN in Vienna. They were also acquainted with teaching material ready to be used in the classroom: From handy tools such as apps, videos, online games, books and lesson plans on the SDGs to background information and educational material on refugee protection. UNODC presented its "Education for Justice" initiative during one of the workshops and explained how educators can join the programme with their students and find compelling teaching material online.
"This workshop was very useful," said one of the participants at the end of the workshop. "I will certainly use some of the material presented today with my students."