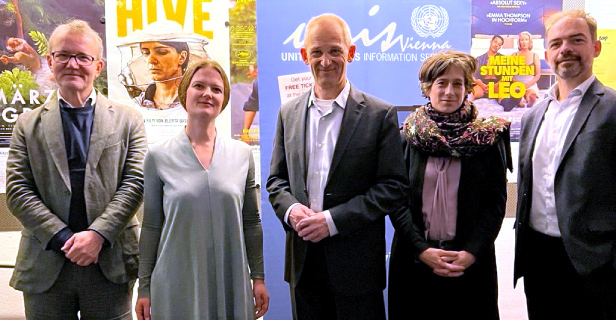 After the film, the discussion threw up further staggering figures on the number of deaths of journalist at work. Deputy Secretary General and Strategic Planning Coordinator at the Austrian Commission for UNESCO, Claudia Isep, said: "Seventy-seven journalists were killed so far this year, ten in connection with the Russia-Ukraine war," adding: "The challenges journalists face are manifold and go way beyond what they experience in war zones."
Frane Maroević, Executive Director of the International Press Institute (IPI), pointed out that: "Most journalists are threatened before they are assassinated," and the real issue is that these "threats are usually not taken seriously". He also commented that assassins are mistaken in believing that they reached their objective when they "silence journalists", as "they cannot kill their stories, their photos live on", long after their deaths.
Rosa Lyon, a journalist working for the Austrian Broadcasting Cooperation (ORF), spoke about her recent reporting experience in Afghanistan and said that women journalists "often have more and easier access to stories".
The screening took place at the arthouse cinema Top Kino, Vienna, Austria, and was organized by the United Nations Information Service (UNIS) Vienna in cooperation with the Austrian Commission for UNESCO. In his welcome remarks, Martin Fritz, Secretary-General of the Austrian Commission for UNESCO, emphasized the significance of "global solidarity with and awareness of" freedom of the press and the safety of journalists.