Events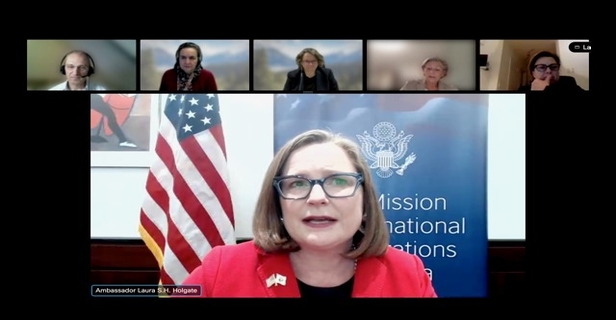 United Nations Information Service (UNIS) Vienna marks International Women's Day with an online Ciné-ONU film screening of "Picture A Scientist"
"Gender inequality is the overwhelming injustice of our age and the biggest human rights challenge we face. (…) That is why I am determined to achieve gender parity at all levels at the United Nations, and I am pleased that we have done so at senior levels two years ahead of schedule. (…) Without women's leadership and full participation, we will never achieve the 2030 Agenda for Sustainable Development or defeat climate change. (…) Only through the equal participation of women can we benefit from the intelligence, experience and insights of all of humanity"- UN Secretary-General António Guterres said in his message for International Women's Day. (Full message available here)
The Secretary-General's message of inclusion and equality in the UN and beyond was echoed by the Ciné-ONU Vienna screening of the documentary "Picture A Scientist" that took place on 7 March. The film portrays the struggles women scientists have faced in recent decades up to today, including structural discrimination, sexual harassment, lack of inclusivity, or respect. The screening and subsequent discussion were held virtually due to the COVID-19 pandemic.
The virtual screening was organized by the United Nations Information Service (UNIS) Vienna in cooperation with the Permanent Mission of the United States to the United Nations (Vienna). In her opening remarks before the film screening, US Ambassador Laura S. H. Holgate said: "The deep-rooted, systemic issue of gender inequality cannot be solved by individual action alone" and urged all who attended to be "active leaders" in tackling sexual harassment and discrimination everywhere.
The film was followed by a panel discussion that included: Helene Gressenbauer, President of UN Women Austria; Simonetta Di Pippo, Director of the United Nations Office for Outer Space Affairs (UNOOSA); Jodie Miller, Head of the Isotope Hydrology Section at the International Atomic Energy Agency (IAEA) and Sabine Grenz, Professor for Gender Studies at the University of Vienna. The panel discussion was moderated by UNIS Vienna Director Martin Nesirky.
During the discussion, Helene Gressenbauer explained the continuous need for women empowerment as "even when respective laws are adopted, the reality [for women] is very different". Commenting on the role of UN Women in supporting Women in Science in particular, Gressenbauer insisted that "UN Women sees itself as a global champion in this field". Simonetta di Pippo, herself a scientist, expressed her distress that young girls are being disengaged from STEM (science, technology, engineering, and mathematics). Di Pippo introduced her programme 'ASTRO GIRLS' which promotes STEM fields to young girls and disabled children, a programme she says is very "close to [her] heart". In her role as a UNOOSA Director, Di Pippo also stressed the importance of the Sustainable Development Goals (SDGs) both in her work and in building a more equal future.
Jodie Miller reflected on the film admitting that it was surprisingly "tough" to watch and that she could relate to the women scientists depicted. Miller reiterated the still very present need for women's empowerment in all fields of science; she told the panel about the IAEA Marie Sklodowska-Curie Fellowship Programme offered by the IAEA that promotes women in nuclear science emphasising that what "is really important is having good role models, not just for gender, but also for diversity and from a range of different backgrounds." Sabine Grenz, spoke on "the abundance of research [proving] that everything is still shaped by a very masculine culture" and explored the cultural history of gender inequality in academics. Martin Nesirky underlined the importance of gender equality in institutions such as the UN and the importance of celebrating International Women's Day, even in challenging times such as these.
Recently, in his message for International Day of Women and Girls in Science 2022, Secretary-General Guterres called for greater inclusion in STEM fields: "This inequality is depriving our world of enormous untapped talent and innovation. We need women's perspectives to make sure science and technology work for everyone." This resonates powerfully with Ambassador Holgate's experiences that she shared during her remarks: "As a woman who has worked in the field of non-proliferation and nuclear security before becoming ambassador, I know these challenges all too well. Women in traditionally male-dominated professions are still not present, not heard, and not as impactful as they could be. Today's global priorities from nuclear weapons to climate change to pandemics are too consequential to leave half of our talent on the other side of the door."