UN Competitions, Games and Apps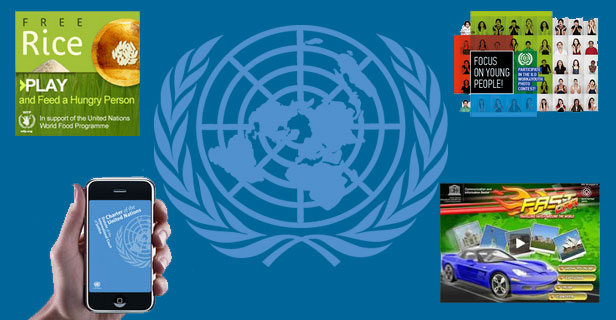 Competitions - Apps - Games
Competitions
Call for submissions: Students Short Film Competition this human world 2022
Directorate of Education Vienna (Bildungsdirektion Wien) and BildungsHub Vienna: Call for submissions "SDG Award for Schools in Vienna" - Submissions possible until mid-May 2022
Apps
Do you want to get breaking news and live audio feeds of UN meetings and events?
With the UN Audio Channels and the UN News Reader apps from the Department of Global Communications (DGC), smart phone users can now be up to date on what is happening at the United Nations.
The UN News app is the destination for daily updates on breaking news and events from the United Nations through comprehensive news coverage, in video, text, photos and audio. Explore global updates on peace and security, sustainable development, gender issues, health, poverty, law, human rights, counter-terrorism, culture, climate change and the environment. Use this fully multilingual app in Arabic, Chinese, English, French, Russian or Spanish. For iOS and for Android
Listen to UN Radio content in English, French, Spanish, Arabic, Chinese, Russian, Portuguese or Kiswahili and live audio feeds from the General Assembly and Security Council from anywhere in the world through the UN Audio Channels app ( Android - iOS )
SDG App: SDG in action
The SDGs in Action app has been developed to highlight the Sustainable Development Goals - the world's to-do list to end poverty, reduce inequalities and tackle climate change. 
Games
Danube Adventure online game
The online game DanubeAdventure.org provides children with an opportunity to learn about the Danube in a playful way. A mix between a quiz and skills games, Danube Adventure was added to the ICPDR portfolio of education activities in 2016.
If children can understand the complexity of rivers and ecosystems, they will care about their protection and become concerned adults.
The objective of the online game "Danube Adventure" is to build on the success of Danube Box and transfer the contents and ideas - acquire knowledge about the Danube, water and the life that depends on it - to a contemporary medium.
Fast Car: Travelling Safely around the World
Fast Car is a racing game that helps you to learn about HIV and AIDS prevention and takes you on a tour of some of the World's Heritage sites.
The game aims to provide young people with accurate and reliable information about HIV prevention, intending to educate and entertain as well as promoting healthy behaviour.
Play " Fast Car "
For each answer you get right, they donate 10 grains of rice through the World Food Programme to help end hunger.
Over 90 billion grains donated to date.
WARNING: This game may make you smarter. It may improve your speaking, writing, thinking, grades, job performance...
Play " Free Rice 2.0 "
STOP DISASTERS is an on-line disaster simulation game aimed at teaching children how to build safer villages and cities against disasters. This initiative was part of the 2006-2007 World Disaster Reduction Campaign "Disaster Risk Reduction Begins at School".
Play " STOP Disasters "