Filming at the VIC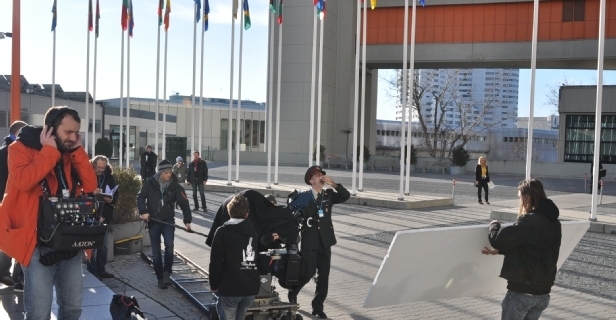 Opportunities for film-makers and photographers at the Vienna International Centre
The Vienna International Centre (VIC) is the workplace for around 4,000 people from over 100 countries and hosts more than 50 meetings and conferences every year.  Built in the 1970s the VIC offers a unique setting for films and documentaries.
UNIS' News and Media Liaison Unit provides assistance to film-makers, photographers, television and documentary producers and others wishing to film at the VIC.  There are many opportunities for gathering interesting audio-visual material both inside and outside the building.
We offer logistical advice to media professionals and act as the coordinator for filming requests with the UN Security and Safety Service and all the Vienna based organizations.
We can also assist producers/filmmakers and photographers looking for audio visual footage and material or interview partners from the Vienna based organizations and other UN offices around the world.
In 2012 we worked with a Danish film production team from Magic Hour Films who were filming 'The Visit' and Monochrom, an Austrian film production company making 'Sierra Zulu'.  We also assisted a photographer, Jan Stradtmann who spent several weeks taking pictures around the VIC buildings for an exhibition entitled 'Inside Atoms for Peace'.
For further information contact us by email: press.vienna[at]un.org