Visit the United Nations in Vienna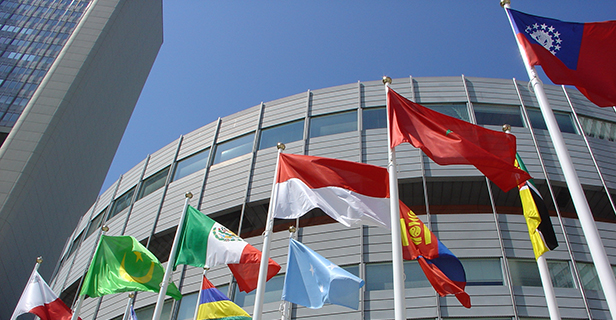 The UN in Vienna Tour
Our standard guided tour offers visitors the opportunity to see the inside of the United Nations complex in Vienna's 22nd District, and learn about the work and purposes of the United Nations in Vienna and around the world.
Tour Outline
Each tour is led by one of our multi-lingual tour guides who can easily tailor the tour to any level of prior knowledge.
He or she will introduce the United Nations organization and its efforts to 'transform our world' through the Sustainable Development Goals. The Vienna International Centre is home to members of the United Nations family working on many aspects of peace and security, human rights and development. They seek to use atoms for peace and development, to reduce poverty through inclusive and sustainable industrial development, to ban nuclear testing, to bring the benefits of the peaceful uses of outer space to every part of the world, to remove legal obstacles to international trade, and to make the world safer from drugs, crime and terrorism.
The tour also takes in the history and architecture of the Vienna International Centre, and explain exhibits along the tour route illustrating the work that goes on here. Visitors will usually have a chance to see one of the conference rooms where international negotiations take place, and can enjoy some of the fine art works on display at the Vienna International Centre, such as an original Hundertwasser. A highlight for many young visitors is a real moonrock on loan to the UN in Vienna from NASA.
The tour route and content can vary for operational reasons, so requests for specific areas that interest you should be communicated before the tour.
The standard tour for individual visitors takes about one hour. Groups can book a 60- or 90-minute tour.
Virtual tours
On-site tours 
Tour brochure
A printed, 32-page colour booklet documenting the tour highlights is available to on-site visitors.
Teaching resources
Teachers visiting with a school group receive a reference guide to on-line teaching resources and other materials to follow up on their tour.
Guide to Teaching Materials In Your Language
Human Rights (PDF)
Sustainable Development Goals (PDF)