Visit the United Nations in Vienna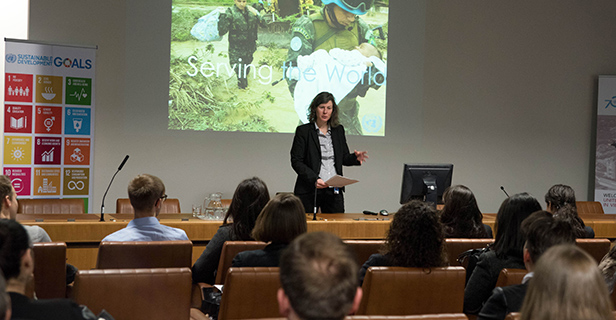 Lecture Programme
COVID-19: Latest booking information
If you are an educator, a group of students in higher education or an expert group and would like a more in-depth look at a particular aspect of the United Nations' work, please contact the Visitors Service to request a lecture programme. The Visitors Service will coordinate your request with speakers from the international organizations based at the Vienna International Centre.
Programme outline
A lecture programme consists of a guided tour plus 1-2 thematic lectures.
We are able to offer single-day programmes only.
Lecture programmes are usually scheduled for Tuesdays, Thursdays and Fridays.
Booking information
Please send an email to our Lecture Coordinator to request a lecture programme: lectures.vienna[at]un.org
Due to the high number of requests, please note the following information:
The minimum group size to book a lecture is 20 people. Payment and costs.
The standard language for lectures is English, one of the working languages of the United Nations. It may be possible to hold lectures in other languages depending on the availability of speakers.
We do not offer lectures for high school students, who are encouraged to participate in our other programmes.
Requests for lectures must be sent at least six weeks in advance.
Visiting groups will be requested to provide ID information through an on-line form in advance of their visit.
Lecture Topics
Subject to the availability of speakers, lectures can be organized on the following topics:
If you do not find the Vienna-based organization you are interested in on the above list, please inquire with the Visitors Service about other lecture options: lectures.vienna[at]un.org