Events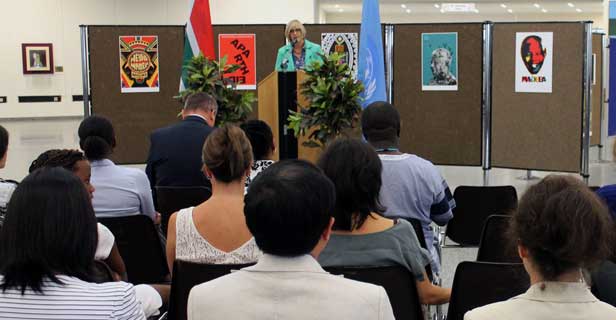 Nelson Mandela Day: the United Nations in Vienna pays tribute to a great man
"For to be free is not merely to cast off one's chains, but to live in a way that respects and enhances the freedom of others." With those historic words spoken by one of the greatest and most inspiring of men, Nelson Mandela, the 'Mandela poster project' exhibition was launched in the Vienna International Centre (VIC) on Monday, 14 July 2014.
In his opening remarks the Director-General of the United Nations Office in Vienna (UNOV), Yury Fedotov praised Nelson Mandela's extraordinary courage and selfless fight for human dignity which he said inspired us all. Reading out the message of the Secretary General, Ban Ki-moon, he recalled Nelson Mandela's presence in the General Assembly Hall in 1990 which proved that United Nations resolutions, sanctions and solidarity can win over violence and injustice. Nelson Mandela became a role model for countless of people around the world, said Lydia Greyling, Chargé d'Affaires of the Permanent Mission of South Africa to the UN in Vienna. Since his passing it has become more important than ever to keep the memory of the Nobel prize winner alive and to honour his selfless struggle for humanity.
The exhibition is in celebration of Nelson Mandela International Day on 18 July  held in recognition of his 67 year fight for human dignity, equality and freedom. The 95 exceptional and thought-provoking posters designed by artists around the world mirror the  achievements of Madiba and, by using symbols such as a dove, boxing gloves or broken prison bars, capture the key ideas associated with him. Coordinated by the Mandela Poster Project Collective, the exhibition will travel to 15 destinations around the world in 2014 raising money for Nelson Mandela's Children's Hospital Trust Fund, which has been established to make his dream of building a hospital for underprivileged children in South Africa a reality.
The event was organized by the United Nations Information Service (UNIS) in corporation with the South African Permanent Mission and the United Nations Office at Vienna (UNOV) and can be viewed as part of a guided tour of the VIC until Friday 18 July. The Nelson Mandela week will conclude with a screening at the UN Headquarters in Vienna of the documentary "Mandela: Long Walk of Freedom", an intimate portrait which shows the extraordinary journey from his childhood as a herd boy to his election as President of South Africa.