Events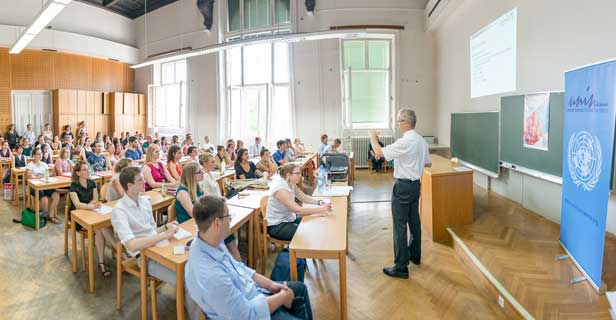 United Nations - a popular career option for students in Vienna
How do you get a job at the United Nations?  That was the question on the minds of the hundreds of university students who came to the United Nations stand at this year's Career Fair "UniSuccess" which is hosted annually by the University of Vienna and organized by the career service UNIPORT.  There were more than 50 stands at the event on 12 June which attracted more than 1,000 students from diverse academic backgrounds.
National and international companies and institutions were represented all offering information about various career opportunities and first-hand advice for students and graduates. Like last year the United Nations booth was the most popular stand at the fair.
Half an hour before the official start, some keen early birds sought career advice from UN staff members, who provided information on the different career paths, current job opportunities and application processes as well as UN's goals and activities. Hundreds of interested and motivated students kept the staff busy all day long, with queues of people lining up at peak times. Information leaflets and brochures on topics like internship opportunities, the Young Professionals Programme (YPP) or 'How to write an application' were particularly popular and were running out by the end of the day.
Aside from the United Nations Information Service (UNIS) Vienna, staff members were present from the Human Resources Department of the United Nations Office in Vienna (UNOV), the United Nations Office on Drugs and Crime (UNODC), the International Atomic Energy Agency (IAEA), the United Nations Industrial Development Organization (UNIDO), the United Nations High Commissioner for Refugees (UNHCR) and the United Nations Scientific Committee on the Effects of Atomic Radiation (UNSCEAR).  All offering expert advice for those interested in a specific organization.
During the two fully booked workshops, Martin Nesirky, Acting Director of UNIS Vienna, opened his presentation by quoting from the Charter of the United Nations that the UN seeks people with the "highest standards of efficiency, competence, and integrity". After giving an overview of the various career paths and job families, he talked about his own previous job as the former spokesperson of UN Secretary General Ban Ki-moon.
Following the workshop, visitors provided positive feedback and moved on to the stand to pursue more personal and detailed advice and engage in vivid conversations with staff members and interns. At the end of a successful day, one of the students said that he "particularly appreciated the inside views and tips" and is now "much better informed about all the opportunities offered by the United Nations".