Events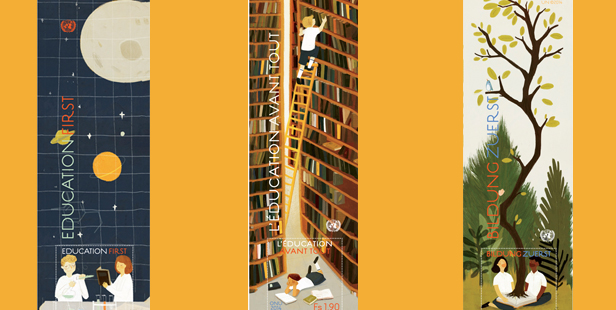 Global Education First Initiative now on UN Stamps
The United Nations Postal Administration (UNPA) is issuing new stamps and souvenir sheets highlighting the Global Education First Initiative (GEFI) on Thursday, 18 September 2014. The Initiative, launched in September 2012 by the United Nations Secretary-General, aims to spur renewed efforts to reach global education goals.
"Education is a major driving force for human development. It opens doors to the job market, combats inequality, improves maternal health, reduces child mortality, fosters solidarity, and promotes environmental stewardship. Education empowers people with the knowledge, skills and values they need to build a better world," said United Nations Secretary-General Ban Ki-moon.
The Initiative focuses on three priorities:
First, putting every child in school. The global community pledged to achieve universal primary education by 2015. We need to make all the necessary investments to ensure that every child has equal access to schooling.
Second, improving the quality of learning. Access to education is critical. But it is not enough. We must make sure that people acquire relevant skills to participate successfully in today's knowledge-based society.
Third, fostering global citizenship. Education is much more than an entry to the job market. It has the power to shape a sustainable future and better world. Education policies should promote peace, mutual respect and environmental care.
The stamps and souvenir sheets in the format of bookmarks were designed by Oamul Lu (China) and are available in US Dollar, Swiss Francs and Euro denominations.
The new stamps and souvenir sheets as well as other UN philatelic products are available at the UNPA sales counter at Gate 1 of the Vienna International Centre from 10 a.m. to 4 p.m. or through the UNPA website.