Events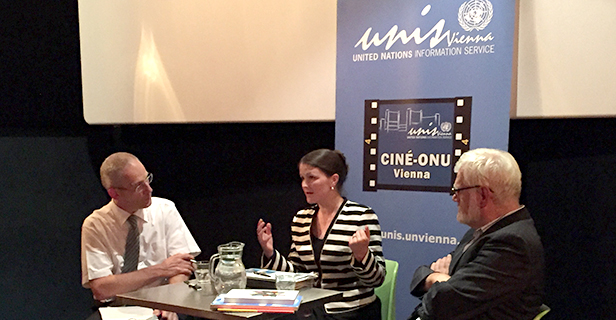 "Act against a nuclear war": Ciné-ONU Vienna film screening of " The Man Who Saved the World"
The film telling the story of a retired Soviet military officer who single-handedly averted a full-scale nuclear world war, was shown to mark International Day of Peace on 21 September 2015.
'The Man who Saved the World' is a 2014 cold war thriller directed by Peter Antony and tells the true story of Soviet military officer, Stanislav Petrov.
On 26 September 1983, Petrov chose to go against protocol when he had to inform his superiors about an alleged US nuclear missile attack that the Soviet surveillance system kept confirming. Instead of following the protocol, Petrov went with his intuition and saved millions of lives by not responding to the false alarm.
In the movie we can see Petrov as a man, who is trying to get his life back on track, before it is too late. He travels to the United States with his translator to get an important award from the United Nations, and to meet with the actors Kevin Costner and Robert De Niro. Referring in the film to a possible nuclear war in the future, Petrov urges people to learn to live together on this planet: "The best way to destroy your enemy is to make him a friend."
A panel discussion with the Chief of the Public Information Section of the Comprehensive Nuclear-Test-Ban Treaty Organization (CTBTO), Elisabeth Wächter, and the Chairperson of the NGO Committee on Peace/UN Vienna and President of the Austrian chapter of the NGO International Physicians for the Prevention of Nuclear War (IPPNW), Klaus Renoldner, followed the film.
The engaged audience in the packed cinema hall had many questions for the panel which was moderated by UNIS Director Martin Nesirky. Some of the audience were even willing to sit on the floor to watch the movie and take part in the discussion. When asked about developments and changes since the end of the cold war, both panellists highlighted the comprehensive deal on Iran's nuclear programme, reached in Vienna in July 2015. Klaus Renoldner referred to it as a positive example of working together, but also mentioned that these are just small steps and much more needs to be done to reach nuclear disarmament. Elisabeth Wächter said that a lot can be achieved through multilateralism and that the Iran deal gives hope for the future.
Even if destroying a nuclear weapon is more expensive than building one, "no one , can win a nuclear war, everyone will lose," said Klaus Renoldner at the end of the discussion.
The film was screened by the United Nations Information Service (UNIS) Vienna, in cooperation with this human world (THW) Film Festival and Topkino for the Ciné-ONU Vienna series.