Events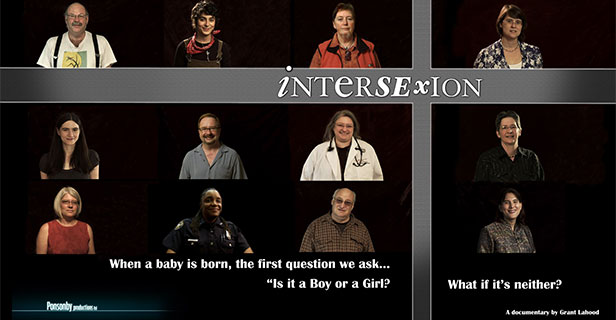 "When a baby is born, the first question we ask: Is it a boy or a girl? What if it's neither?"
"Intersex isn't uncommon; it's just unheard of." So says one of the protagonists in the documentary film Intersexion, screened by UNIS Vienna to mark Human Rights Day 2015 (10 December) and as part of the UN's Free & Equal Global Film Series. The film, directed by Grant Lahood, features intersex people in the United States, Ireland, Germany, South Africa and Australia telling their stories through interviews. By looking at their experiences from birth through childhood, adolescence and adulthood the movie explores how they dealt with being intersex and how their parents, families and friends handled it. Although one in 2,000 babies born might be intersex, there is still a lot of shame and secrecy about the topic and most people have no knowledge of it. Many intersex people don't talk about their sexuality and try to keep their gender hidden. Intersexion reports on the challenges that come with being intersex, starting with "normalizing" surgeries, the rules of doctors and discrepancies between the out- and the inside of intersex people.
The film screening was followed by a panel discussion with Gorji Marzban, who is Co-Founder and Member of the Verein Intersexueller Menschen Österreich (VIMÖ, or Austrian National Association of Intersex People) and Dennis van der Veur, Head of the Sector for Cooperation with EU institutions and EU Member States at the EU's Vienna-based Fundamental Rights Agency (FRA), moderated by Martin Nesirky, Director of United Nations Information Service (UNIS) Vienna.
When asked about the movie and VIMÖ, Co-Founder Gorji Marzban emphasized that one goal of his association is to encourage intersex people to be comfortable with who they are. Many people seeking support from VIMÖ are afraid of what might happen if they go public. "They are scared about what can happen to them, that they will lose their job, their family and so on, and that is the reason why many of them are still in the closet," Marzban said.
He said the documentary shows that each person is an individual and has an individual sexuality and that the film demonstrates in a very good way the reality of intersex people at first hand.
Dennis van der Veur stated that the topic was handled in the documentary in a balanced way, while still outlining the challenges that come with being intersex.
One of the aims of FRA, as Dennis van der Veur noted, is to collect facts inside the 28 EU Member States, as not much was known about the topic, considering the rights of children and LGBTI (lesbian, gay, bisexual, transgender and intersex) individuals. During the research, FRA found that 21 out of the 28 EU countries are still sex "normalizing" countries, including Austria. In most countries children are not engaged in the process of decision-making, although those countries ratified the UN Convention on the Rights of the Child. Very few countries have flexibility for the way to declare the sex of a new born. The chance to decide later and not to rush things is not given in most countries.
Marzban said a first aim should be legislation to stop all intervention on new borns and he emphasized this by saying: "No surgeries, which are not life-saving, no sex-assignment surgeries without the consent of people who are operated on."
To raise more awareness about this topic a discussion in the political sphere would be necessary. Unfortunately politicians are not generally supportive, Marzban said, noting envisaged meetings had been postponed, for example. He said it is an aim of VIMÖ to establish a third gender, because at the moment the only categories are male and female and intersex people de facto have no status, which raises the question of human rights. Marzban described it this way: "When a child is born who is intersex, why should it be forced to assimilate to one of those categories? People can be damaged for their whole life and this is irresponsible."
He added: "Of course different societies have different approaches to the issue, but we want to conserve the body as it is and give them a chance to stay intersex." Former surgeries have shown that medicine cannot construct a penis or vagina and even doctors say their attempts to improve are failing.
So far 12 UN agencies have made a statement and issued a joint call to action on ending violence and discrimination against LGBTI adults, adolescents and children. Dennis van der Veur added that more research needs to be done. A dialogue between medical professionals and awareness raising is important, for example in schools, by showing films such as Intersexion. In the end it is up to the national governments to change the relevant laws.
Dennis van der Veur said sex "normalizing" operations need to be stopped. He added that claims for compensation for body damage due to such surgery were never won and difficulties in locating hospital records years later make it even harder to win a case. "Transsexuality becomes an escape for them and most people have found some peace with that, but are not happy with it," van der Veur said at the end of the discussion.
Cine ONU Vienna is organized by UNIS Vienna in cooperation with Topkino and This Human World Filmfestival.