Events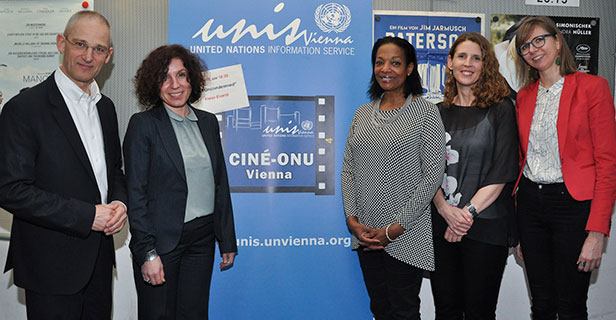 Courageous Rwandan women change the way rape is viewed - Ciné-ONU Vienna screening 'The Uncondemned'
VIENNA, 6 March 2017- To mark this year's International Women's Day (8 March) UNIS Vienna's monthly film series Ciné-ONU screened the documentary 'The Uncondemned', in partnership with the Permanent Mission of the United States, this human world (THW) Film Festival and Topkino.
'The Uncondemned' by US filmmakers Michele Mitchell and Nick Louvel takes a powerful look back to the year 1997, when a group of young international lawyers with an intense passion for justice fought to make rape a crime of war at the International Criminal Tribunal for Rwanda, altering the world of criminal justice. But more importantly, the film recounts the story of the Rwandan women who came forward to testify about the not-so-hidden atrocities of war at the International Tribunal, whose belief in the power inherent in speaking the truth and win justice was not to be denied.
The landmark trial not only offered jurisprudence for future cases, but also addressed the everyday human right on sexual autonomy. As one of the witnesses says in the film: "We were representing women everywhere. It is important to know that rape is a crime, that it is punishable nationally, in Africa, and internationally."
The ensuing panel debate, moderated by the Director of the United Nations Information Service (UNIS) Vienna, Martin Nesirky, centred around the importance of broaching gender-based violence, and the difficulties in doing so.
The discussion was led by four women: Patricia Viseur Sellers, Special Advisor to the International Criminal Court and part of the legal team prosecuting at the International Criminal Tribunal for Rwanda featured in the documentary; Candice Welsch, Chief of the Implementation Support Section, Corruption and Economic Crime Branch, United Nations Office on Drugs and Crime (UNODC); Maaike van Adrichem, Adviser on gender issues at the Organization for Security and Co-operation in Europe (OSCE) and Rossalina Latcheva, Senior Programme Manager, Statistics and Surveys at the European Union Agency for Fundamental Rights (FRA).
All speakers pointed out that much remains to be done in the fight for gender parity and to eradicate gender-based violence as a consequence of inequalities between women and men. First and foremost an international understanding of the severe long term consequences of sexual violence has to be further promoted.
In too many countries it is still a taboo to talk about being sexually harassed and it takes much courage by the victims, like the Rwandan witnesses shown, to open up about gender-based violence and ensure that those committing these violations are held responsible. As Maaike van Adrichem emphasised, gender-based violence should not remain a private issue but be recognized as a security concern for all.
Patricia Sellers said that although there is no place for the perpetrators to hide in international law, there remains a high discrepancy between law and the reality of enforcement due to the difficulties in documenting gender-based violence. She said it must be a priority in each humanitarian crisis to emphasize that sexual violence in conflict is not unfortunate collateral damage, but a war crime. As such it should be treated as an immediate health need that requires help for the victims.
Pointing out gender-based crimes in current international crises, but also not forgetting everyday gender inequalities in the private sphere, the four panellists  called for more support for the UN to help prevent this violation of fundamental rights in the future; and for an intensified political will by its Member States and other international policymakers to get where we want to go: a planet 50-50 by 2030. "If there is to be progress, we must work collectively to achieve the 2030 Agenda for Sustainable Development, which seeks equality and an end to all forms of violence against women and girls," said the Executive Director of UNODC, Yury Fedotov in his message for the day.