Events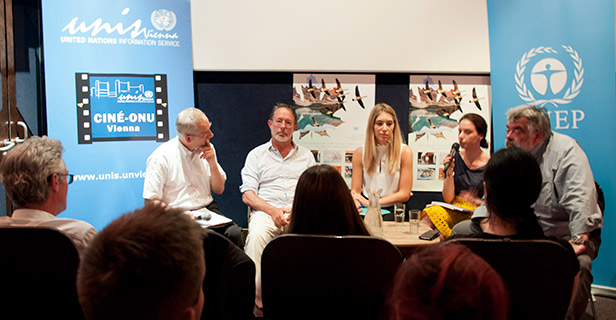 Examining the issues of global warming and ocean acidification through the lens of the world's evaporating wildlife - Ciné-ONU Vienna Film Screening of "Racing Extinction"
VIENNA, 12 June 2017 - "Rising sea levels threaten entire countries. Oceans are warming and becoming more acidic, causing coral bleaching and reducing biodiversity. Changing currents will have a serious impact on weather patterns; we must prepare for more frequent storms and droughts. Fisheries in some places are collapsing. Dead zones - underwater deserts where life cannot survive because of a lack of oxygen- are growing rapidly in extent and number.  Many species could be extinct within decades," UN Secretary-General António Guterres told the opening of the Ocean Conference in New York.
In support of the Oceans Conference and to mark this year's World Environment Day (5 June) UNIS Vienna's monthly film series Ciné-ONU Vienna screened the documentary "Racing Extinction", in partnership with the UN Environment Vienna Programme Office - Secretariat of the Carpathian Convention, this  human world (THW) Film Festival and Topkino.
In "Racing Extinction" Oscar-winning director Louie Psihoyos assembles a team of artists and activists on an undercover operation to expose the hidden world of endangered species and the race to protect them against mass extinction. Spanning the globe to infiltrate the world's most dangerous black markets and using high tech tactics to document the link between carbon emissions and species extinction, the documentary reveals stunning, never-before seen images that truly change the way we see the world.
The film was followed by a captivating panel discussion moderated by the Director of the United Nations Information Service (UNIS) Vienna, Martin Nesirky.
Panellists included Walter Koehler, Chief Executive Officer of Terra Mater Factual Studios; Max Abensperg-Traun, Austrian representative for the Convention on International Trade in Endangered Species (CITES), who also works for the Federal Ministry of Agriculture, Forestry, Environment and Water Management; Lynn Schlingemann, UN Environment Vienna Programme Office, Secretariat of the Carpathian Convention and Lejda Toci from the Global Programme for Combating Wildlife and Forest Crime, in the UN Office on Drugs and Crime.
The speakers all emphasized the importance of combatting wildlife crime and agreed on the fate that awaits us if we do not act, which would be mass extinction of many species, hugely decreasing biodiversity.