Events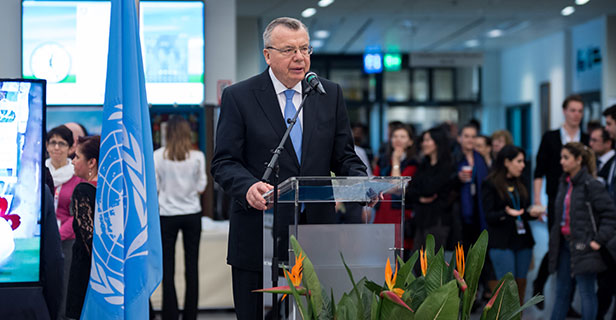 UN Vienna Director-General opens Nowruz Festival
The Director-General of the United Nations Office at Vienna (UNOV), Yury Fedotov, opened a festival for Nowruz, the day celebrating the arrival of the spring season, today at the Vienna International Centre.
Mr. Fedotov shared the words of United Nations Secretary-General António Guterres marking Nowruz, who called the day a "chance to renew our pledge for peace, friendship, human rights and human dignity".
The Permanent Missions of Afghanistan, Azerbaijan, India, Iran, Iraq, Kazakhstan, Kyrgyzstan, Pakistan, Tajikistan, Turkey, Turkmenistan and Uzbekistan to the United Nations in Vienna hosted the festival, which featured music, performances, a display of cultural artefacts and regional cuisine.
Mr. Fedotov thanked the Permanent Missions for making the festival possible, and helping the UN family in Vienna celebrate Nowruz.
"The rich and diverse performances from many regions planned for this afternoon are a fitting celebration of a day that marks the arrival of spring, and that rejoices in renewal and the promise of better days to come," he said.