Events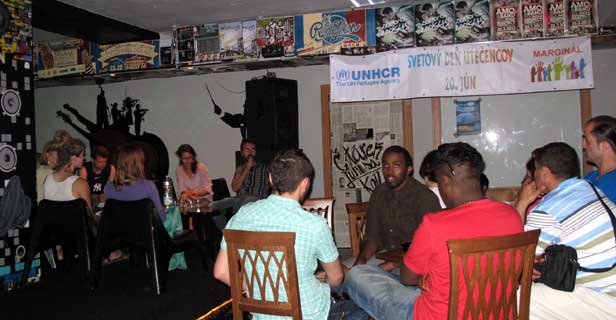 World Refugee Day 2013 in Slovakia
An Afghan girl singing a popular Slovak song and a photo exhibition showing refugees living in Slovakia were just a part of an early event to mark World Refugee Day (20 June) held in the unconventional premises of a cultural project Nekapri InnArt in Bratislava. People attending could also find more about the stories of refugees and listen to a discussion with refugees from Afghanistan, Iraq, Somalia and Syria living in Slovakia.  On the side there was henna hand-painting and Afghan refreshments.
According to Tomáš Bauer of the Marginal NGO, working on a UNHCR Refugee Integration Project, there were about 68 000 foreigners living in Slovakia out of a total population of 5.5 million in the country in 2012; about 730 people applied for asylum in that year and 32 were given asylum and around 100  were granted some kind of protection.
One of the student authors said that she started depicting photo stories of refugees after she experienced being a migrant herself, during her voluntary work experience in a developing country. The photos do not show the faces but are taken showing the refugees from behind to stress the thin line between intimacy and identity of particular stories.   
The UNIS Vienna consultant in Slovakia Jana Hönschová gave a presentation talking about some of the outreach activities of UNIS Vienna on the theme of refugees as well as explaining UNIS Vienna's role and mandate.
The event was organized by Slovak NGOs Marginal O.Z. and the Slovak Humanitarian Council, together with United Information Service (UNIS) Vienna and UNHCR for Central Europe. The celebration of the World Refugee Day will culminate on Thursday 20 June with an Umbrella March, simultaneously at the Hviezdoslavovo Square in Bratislava and in Košice, followed by various cultural side events.