Events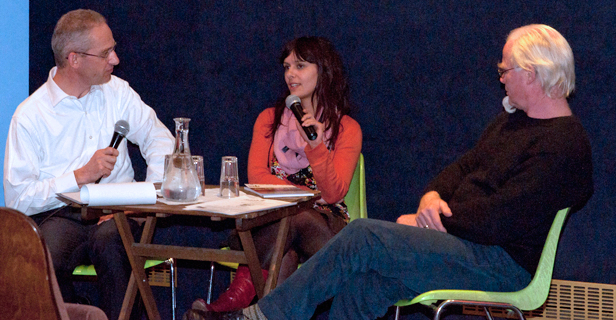 Back to Mother Nature: Cine-ONU Screening of the "Project Wild Thing"
With the rapid development of technology, the way we spend our free time has changed drastically. We spend less time outside, more time at home; we watch more TV and rates of childhood obesity are increasing.
The documentary "Project Wild Thing" by David Bond is an amazing manifestation of a father trying to apply all the marketing tricks possible to make nature more attractive for children. He appoints himself the Marketing Director of Nature, consults the world's best branding experts, researchers and nature activists and with their help launches the British nationwide campaign "Project Wild Thing".
"This film is an interesting way to show the branding of nature," said Martin Nesirky, Director of the United Nations Information Service (UNIS) Vienna when opening the panel discussion with the invited speakers:  Tamara Mitrofanenko, Consultant from Vienna Office, United Nations Environmental Programme (UNEP) and Folgert Duit, Teacher at the Forest Kindergarten, Waldkindergarten St. Andrä. 
Tamara Mitrofanenko spoke about the important work United Nations Environmental Programme (UNEP) is doing in rural areas around the world. To bring old and young generations together in nature and foster intergenerational learning activity, UNEP, together with the European Commission, is managing the project "Big Foot: Crossing Generations, Crossing Mountains" in Greece, Italy and Bulgaria.
Mitrofanenko also outlined that there are infrastructure and development problems in rural areas, so children often do not see many reasons to stay there and are more willing to move to the cities: "We want to help rediscover the options of living in a rural environment. We also focus our efforts on sustainable tourism development."
Folgert Duit introduced the concept of Waldkindergarten St. Andrä, located in the forest near Vienna, where kids play outside the whole year round: "In our kindergarten we do not have toys, the children play with everything Mother nature gives us. We have very few cars and machines around. It's like a paradise, but it's hard to find a paradise like that in a big city."
Duit also mentioned that through time, trust is established between children, their teachers and nature: "There must be a relaxed and safe surrounding in which children can  move with their own tempo, they need time to get closer to the challenges nature might bring."
 "People should take responsibility for the places and environment they live in. We all want to  live in places where children have enough space to play outside," Folgert Duit said.
"Project Wild Thing" was screened as  part of the Cine-ONU Vienna initiative organized by the United Nations Information Service (UNIS) Vienna in cooperation with This Human World (THW) Film Festival and Topkino.