Visit the United Nations in Vienna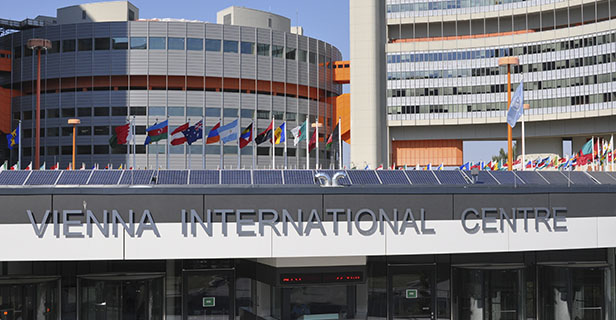 Guided Tours and COVID-19
Please note the following COVID-19 prevention measures for participants in guided tours at the Vienna International Centre (VIC), as of 25 April 2022:  
Wearing an FFP2 mask in all indoor areas is recommended throughout your visit to the VIC.
Full contact details will be required with your booking to facilitate contact tracing.
Please follow general hygiene measures to prevent the spread of COVID-19.
Thank you for your understanding that COVID-19 prevention measures to avoid crowding may lead to longer-than-usual waiting times when entering the VIC. Please arrive 15 minutes before your tour.     
Guided Tours Frequently Asked Questions
Do I need to bring identification to enter the UN?

All visitors to the United Nations 18 years and unaccompanied children over the age of 12 require a valid government-issued photo identification issued by a Member State or an Observer State of the United Nations to enter the Vienna International Centre. Photo identification must be original (no photographs nor photocopies accepted) and can include a passport, driver's license or national identity card. Children on school tours should bring their school ID card (Schülerausweis).
Is there a security screening?
Yes. Please allow time to pass through the security check before purchasing your ticket.
Are there restrictions on what I can bring on my tour?
You may not bring weapons of any kind (including knives and weapon replicas) into the VIC. Any illegal items found during the security check will be confiscated and reported to the Austrian police. Legal but prohibited items, such as sharp tools or toy weapons, will be returned at the end of the tour.
Please leave large bags and backpacks at home as there is no coat room or luggage storage on-site.
When are guided tours offered?
Guided tours for individuals and small groups <10, as well as larger groups >10, are offered on weekdays only.
Tickets must be booked online before your tour. BOOK NOW
What is your ticket/reservation refund policy?
Once tickets have been purchased all sales are final. For groups COVID-19-related exceptions apply.
Can I enter the Vienna International Centre without joining a tour?
No. Visitors must join a tour to enter the Vienna International Centre.
Visitors are asked to arrive at least 15 minutes before the scheduled start of the tour. If your group is delayed, please call 0043-1-26060-3328. If you arrive at the Visitors Service Counter after the start time of your tour, we may not be able to honour your reservation. 
In which languages are tours available?
Groups can request tours in more than a dozen languages . In the unlikely event that the language tour requested is not available on the day, the tour will be conducted in English.
Tours for individual visitors and small groups are usually conducted in English or German. Further languages may be possible ad-hoc, depending on the preferences of tour participants and the availability of tour guides.
Yes, photography (personal cameras, camera phones) is permitted but not video or audio recording. Also, depending on the meetings taking place, your Tour Guide might indicate that photography is not permitted in certain areas. Delegates and staff as well as security installations may not be photographed.
Is there a bag check or coat room?
No. All coats and backpacks must be carried while on tour. No luggage storage is available.
What are the options for purchasing food at the Vienna International Centre?
There are no lunch or dining options available to visitors on guided tours. Snacks, soft drinks and coffee are available from vending machines at the Visitors Centre before and after tours.
Is there an ATM that I can use?
No, there is no ATM machine in the Visitors Centre. Please arrive at the Vienna International Centre with enough cash for your tour ticket.
We welcome children of all ages, though tour content is most suitable for children 6 years and older.
Is there a discount for accompanying teachers?
Up to two teachers enter free when accompanying groups of primary and secondary school children. This discount does not apply to the leaders of adult groups or university students.
Where is the drop off location for buses?
We encourage our visitors to arrive by public transportation, as there is no on-site parking, and drop-off options are very limited. If you arrive by bus, ask your bus driver to stop on the side street at Wagramer Strasse 5.
Please dress appropriately for the international diplomatic environment of the United Nations. For example, offensive slogans on clothing or highly revealing outfits would not be acceptable.
Can I visit the UN in Vienna on weekends?
No. The Vienna International Centre is closed to visitors on weekends.
The UN in Vienna is closed to visitors on the official UN Holidays and for two weeks over the end of the year. 
Is the UN in Vienna accessible to people with disabilities?
Yes. The tour route is barrier-free, and tour guides are experienced in tailoring tour content for visitors with various disabilities including the sight or hearing impaired.
Can I take a tour with the NOE Card?
No, at the moment we are not participating in the NOE Card. Regular ticket prices apply.