Visit the United Nations in Vienna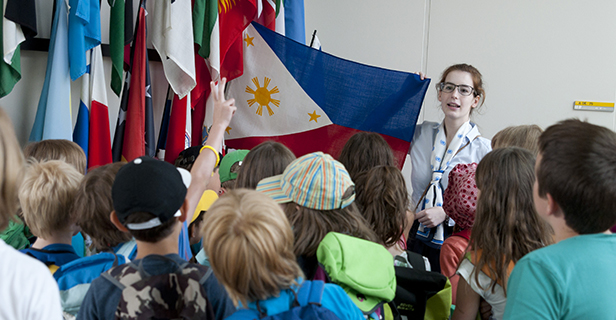 Visit as a Group
Visitors Service Vienna usually offers guided tours and lectures at the Vienna International Centre every weekday Monday-Friday except UN Holidays. However please note that on-site guided tours and lectures at the Vienna International Centre remain suspended as a COVID-19 prevention measure until further notice. 
What are my options?
Plan ahead to visit at a later date: Please contact us to tentatively schedule your on-site tour or lecture programme. Confirmation will be subject to the resumption of on-site guided tour and lecture operations at the Vienna International Centre.

BOOK AHEAD
Book ahead for adults
Book ahead for university students
Book ahead for kids between 10 and 18 years
Book ahead for children between 6 and 12 years
Languages
Subject to the availability of tour guides, group tours may be requested in Arabic, Chinese, Czech, Dutch, English, French, German, Hungarian, Italian, Japanese, Portuguese, Russian, Slovak, Slovene or Spanish.
Lectures are usually held in English.
Group bookings will be accepted for 20 or more people. Once a group booking confirmation is issued, a minimum of 20 tickets will be charged. Smaller groups may book a dedicated guide for a 20-ticket flat fee.
School groups can book directly with us or organize a visit to the VIC through the  Wien Aktion programme offered by the Austrian Federal Ministry of Education, Science and Research, or through the City of Vienna's  Presse und Informationsdienst (PID).
Price per person:
60-minute tour

 

2021

Adults

€ 12

Students
Retirees
Military
People with disabilities

€ 10

School pupils
Children

€ 7

90-minute tour

 

2021

Adults

€ 14

Students
Retirees
Military
People with disabilities

€ 12

School pupils
Children

€ 9

Lectures

 

2021

For each lecture an extra 2 Euros per person will be charged

€ 2
Cancellation policy
Written cancellation or changes to your booking will be accepted up to  six  working days before the confirmed tour date at no charge. Changes or cancellations with less than six working days' notice will incur a  cancellation fee: 70 EUR per booking for up to 20 visitors. Submission of a booking request implies that this policy has been read and understood.
Important information
When preparing for an on-site visit to the VIC, please bear in mind the following:
You will have to pass a security check requiring a valid  official identification document (national ID card, passport or driving licence; a paper copy or a photo of the ID is not acceptable).
As the security check might get busy, we recommend arriving at the VIC at least 15 minutes before the scheduled starting time of the tour.
Small bags may be carried on tour. For security reasons there is  no possibility to store  luggage at the VIC.
The Visitors Service is  closed on  weekends and the official  UN Holidays   .