"May you be the mother of 100 sons"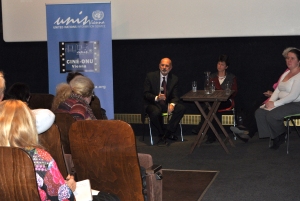 All over the world, women and girls experience violence. According to the United Nations Population Fund (UNFPA), around the world, as many as one in every three women has been beaten, coerced into sex, or abused in some other way.
On the occasion of the International Day for the elimination of violence against women (25 November), the United Nations Information Service (UNIS) Vienna,
in cooperation with the Academic Council on the United Nations System (ACUNS),th is human world (THW) Film Festival and Topkino, screened the documentary "Women in an insecure world" by Barbara Rady-Rupf.
The 45 minutes film deals with five kinds of violence against women: female infanticide, female genital mutilation, domestic violence, female human trafficking and rape in war.  "May you be the mother of 100 sons", a common Indian wedding blessing, reveals a preference for boys over girls, men over women prevalent in many societies around the globe. Female infanticide in India has led to a gender gap of over 10 million missing women over the last two decades; 6,000 girls a day undergo genital mutilation, regardless of their social class or religion; Many of the survivors suffer of life long infections afterwards; worldwide one in five women experience violence in their marriage; more than two million women and children are trafficked every year; the use of rape as a method of warfare is a common tool to damage a whole society.
The film, which aims to reveal the scope of violence against women worldwide, is part of a resource package produced by the Geneva Centre for the Democratic Control of Armed Forces (DCAF) in cooperation with Amnesty International Switzerland. But it does not solely transmit grim data. It also shows where women in need can seek help and what is being done to change the status quo. It offers solutions.
The panel discussion following the film featured the director of the film Barbara Rady-Rupf, psychologist Sylvia Löw of the Viennese Women's Shelter, and Anna Guidice Saget, Drug Control and Crime Prevention Officer at the United Nations Office on Drugs and Crime (UNODC) Justice Section. Moderated by UNIS Director Janos Tisovszky, the discussion focused on several issues, among them why women do not simply leave their husbands if they mistreat them. According to director Rady-Rupf, women often believe that it is their own fault if they are being beaten. Anna Guidice Saget mentioned that many women through their role as mothers are not economically independent and therefore find themselves in fear of losing their livelihoods if they do not obey their husbands. Psycholgist Sylvia Löw added there is general anxiety among abused women, that reporting their husbands' behaviour to the police is counterproductive as he will get away with it and trouble her even more afterwards, in the worst case by taking her children away or even by killing her.
The audience raised the point that despite efforts to combat crimes against women, there is the feeling that impunity is still prevailing. The panel agreed that much has been done already in terms of legislation, but implementation takes time. An effective approach will need both a trickle-down and bottom-up component, for example by including schools in the discussion, the panellists said.
For further information visit the Ciné-ONU page.