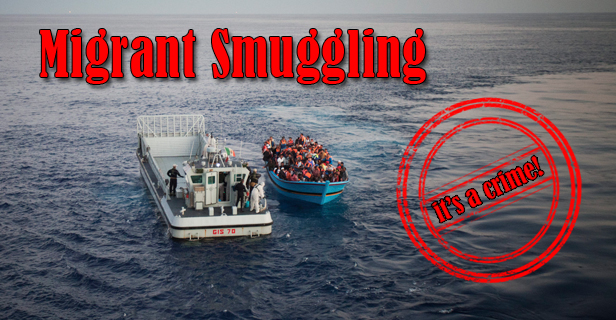 "There is seemingly no end to tragic reports of migrants losing their lives on desperate voyages to safer havens. These perilous journeys undertaken by hundreds of thousands of women, men and children are mostly facilitated by criminal smuggling rings." -Yury Fedotov, Executive Director of the UN Office on Drugs and Crime (UNODC)
Every day across the world, people are risking their lives to escape poverty, lack of opportunity, natural disaster, persecution, conflict or political instability. When a better or safer life cannot be secured within their own country, crossing the border appears as the best, if not the only option for themselves and their families. In a world where, for various reasons, the possibilities to migrate legally are often not available, this demand creates a profitable illicit market.
Migrant smuggling generates huge profits for criminals who know there is little risk of detection or apprehension. It is a crime that fuels corruption and empowers organized crime. Profit-seeking criminals exploit the lack of legal opportunities available to migrants and take advantage of their situation by offering services at great cost, including transport but also document fraud. They often lend migrants stolen passports with photos that resemble them, falsify travel or identity documents or help them obtain genuine passports or visas based on fraudulent supporting documents that they provide.
Because these services are illegal, migrants are left vulnerable in the hands of the smugglers. Afraid and intimidated to approach authorities for help, many migrants are mistreated during the smuggling process and are forced to endure severe conditions. They may be abused on the way to their destination or abandoned en route  without resources. They may fall victims to extortion and exploitation by their smugglers and to terrible, often life-threatening conditions. Thousands of people have drowned at sea or perished in deserts. Refugees and asylum seekers, as well as vulnerable migrants especially unaccompanied minors and pregnant women, can be among those who pay a high price for smuggling services.
One of the biggest challenges with this crime is that it is easily adaptable to the shifting circumstances of supply and demand, as well as to different criminal justice capacities in countries of origin, transit and destination. Efforts largely focus on apprehending and deporting individual migrants and less attention is paid to dismantling the organized criminal groups involved. Although better migration management is part of the solution, it should be complemented by legislative measures that criminalize migrant smuggling, protect the human rights of the migrants, explore the opening of legal channels of migration and access to protection, and enshrine the principle of non-refoulement for refugees under which they should be protected from being returned or expelled to places where their lives or freedom could be threatened.  These measures go hand in hand with the need to build the capacity of national authorities. This helps them to identify migrants in need of assistance and refugees, as well as to effectively investigate and prosecute the organized crime networks masterminding the smuggling operations, including through complex financial investigations. Those who make the real profit must be caught and prosecuted. The organized crime groups themselves must be dismantled and criminal profits confiscated. If not, they will continue to operate, adapting their methods and routes to changing circumstances. Strengthening border controls alone may actually lead to  increasing demand for smuggling services to enter the countries irregularly.
The smuggling of migrants is a transnational crime that takes place across borders and across regions. As long as States do not join forces to address it, smuggling businesses run little risks of disruption. To tackle this crime effectively, there must be police and judicial cooperation between origin, transit and destination countries as well as financial investigations, targeting the profits of smuggling rings, and a rigorous stance against corruption.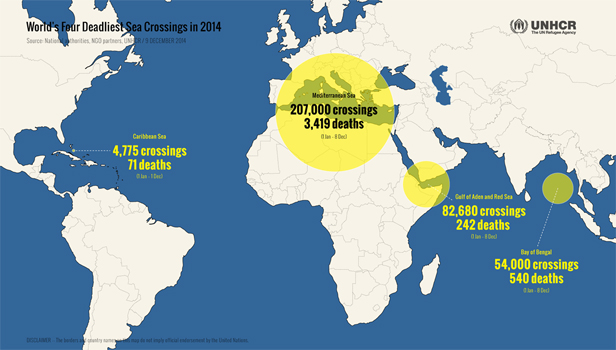 [Facts and figures taken from IOM and UNHCR sources, 2014 - click to enlarge]
How does migrant smuggling undermine development?
Migration is a positive force  for development. Yet, when migration is organized illegally by criminal groups for profit, its effect may be outweighed by the negative impact of transnational organized crime and corruption.
In countries of origin, migrants and their families  are often pushed further into destitution by profit-seeking smugglers who may or may not deliver the services they sell. Sometimes entire families and communities pool their resources to help a key income-earning family member migrate. Migrants may face debt-bondage, or become victims of  human trafficking. Their families may be extorted by criminals colluding with smugglers and ill-treating the migrants to force their families into paying a ransom for their release. Smuggled migrants are also less likely to  send remittances to their families once they reach their destination.
What is the United Nations doing to combat migrant smuggling?
The primary goal of the United Nations in combatting migrant smuggling is to promote global adherence to the Smuggling of Migrants Protocol of the United Nations Convention against Transnational Organized Crime and assist States in their efforts to effectively implement it while ensuring the rights of migrants and refugees are protected.
UNODC's Global Programme against the Smuggling of Migrants was designed to support Member States and criminal justice institutions in preventing and prosecuting these crimes, and protecting the rights of people who fall prey to the criminals who commit them. The Global Programme aims to strengthen countries' criminal justice responses to the crime of migrant smuggling, while upholding the rights of the migrants, and to promote police and judicial cooperation between countries of origin, transit and destination. 
UNODC also develops standard-setting tools to develop legislation, to train investigators and magistrates and to assess the criminal justice response to the smuggling of migrants. UNODC's efforts complement the actions of partner United Nations agencies and other international and regional organizations to address irregular migration challenges, in particular migrant smuggling, comprehensively. For example,  the Global Migration Group, the UN inter-agency body focusing on migration,  seeks to ensure  migration is properly taken into account in UN development planning, including for the universal sustainable development goals that will follow on from the Millennium Development Goals that end in 2015.