Visit the United Nations in Vienna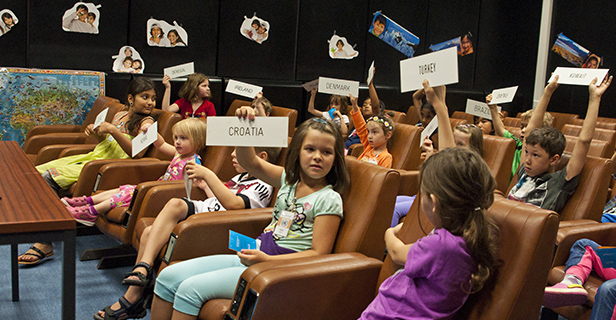 Childrens' Conference
On-site guided tours and lectures at the Vienna International Centre remain suspended as a COVID-19 prevention measure until further notice. Virtual tour options
This inter-active tour of the Vienna International Centre introduces children aged 6 to 12 to the work of the United Nations.
Tour outline
During the 90-minute programme, children not only get a chance to discover the many different flags flying on the UN Memorial Plaza, and see the inside of the UN complex where people from so many different countries come to work together. Led by their tour guide, they simulate an international conference in age-appropriate terms, with each child representing a different country. The young delegates discuss how best to solve a tricky problem. They listen to each other, learn to accept different opinions, and finally take a democratic vote. In the process, local children get a chance to pick up a few words of English, one of the working languages of the United Nations.
Tour handout
For follow-up at home or in the classroom, each participant will leave with a colourful handout showing the flags and geography of the UN Member States represented during the Children's Conference. The handout can be customized by colouring in one's favourite flag, and can be folded out into a small world map poster decorated with the Sustainable Development Goals in all six official UN languages.
Teaching resources
Teachers receive a printed reference guide to on-line teaching resources and other materials at the end of the tour.
Guide to Teaching Materials In Your Language
Human Rights (PDF)
Sustainable Development Goals (PDF)
UN teaching materials
English - German - Hungarian - Slovak - Slovene