Visit the United Nations in Vienna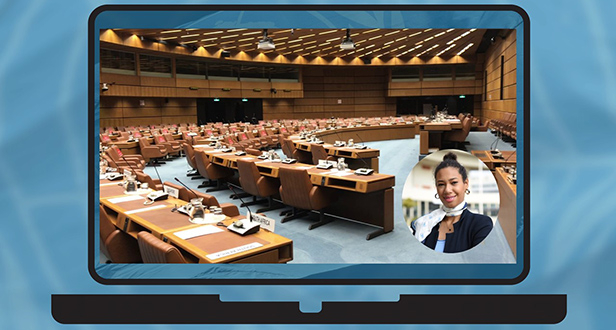 Virtual Visits
Visit the United Nations in Vienna without leaving home!
Virtual Tour
Book a LIVE Online Session with a UN Tour Guide

For school groups, students and adults in groups of at least 20 people, an online session with a UN Vienna Tour Guide is the perfect introduction to the United Nations and the work of the organizations based at the Vienna UN headquarters. Participants can interact with a live Tour Guide to ask questions, and get a behind-the-scenes look inside the Vienna International Centre through Tour Guide-hosted videos.

Duration: A Virtual Tour lasts 45-60 minutes, including Q&A with the Tour Guide

Content: Virtual tour content is similar to our on-site "The UN in Vienna Tour"

Languages: Currently virtual tours can be requested in Arabic, Chinese, Czech, Dutch, English, French, German, Hungarian, Italian, Japanese, Portuguese, Russian, Slovak or Spanish, subject to the availability of tour guides.

Further information, dates and costs for virtual tours for groups

NEW - Further information, dates and costs for virtual tours for individuals  
Virtual Lecture Programme
Book a Virtual Tour + LIVE Online Session with a UN Expert

For academic and professional groups of at least 20 people with an in-depth interest, we offer the possibility to add a second session to your virtual tour of the UN in Vienna. Request a thematic lecture by an speaker from one of the Vienna-based organizations (subject to availability).

Duration: A Virtual Lecture Programme is 90-120 minutes long, consisting of a virtual tour followed by a presentation and Q&A with a UN expert.

Content: Virtual lecture topics are similar to those that can be requested for our on-site lecture offer

Languages: Lectures are usually held in English. Further languages may be possible upon request.

Further information, dates and costs for virtual lecture programmes
Meeting Platform
Our meeting sessions are scheduled on Microsoft Teams. A meeting link will be shared with you after your booking is confirmed.
If you prefer to use your own platform, please indicate this on the form and we will review your request. In this case, we would ask you to host and moderate the event and share the meeting link with us.
* As a matter of policy, please note that recording or redistributing any part of the online session is not permitted.
Take a Free #GlobalGoals Video Tour
View a series of short online videos hosted by UN Vienna Tour Guides to see how the United Nations around the world, including the organizations based at the United Nations headquarters in Vienna, are continuing to work for the Sustainable Development Goals even as the world grapples with the COVID-19 pandemic.
Watch in Chinese - English - French - German - Hungarian - Italian - Russian - Slovak - Spanish - Turkish