Refugees and Migration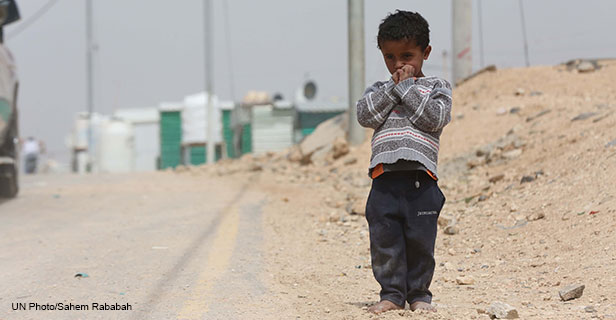 Supporting Syrian Refugees not only 'an act of generosity' but also of 'enlightened self-interest' says UN Chief on visit to Jordan refugee camp
28 March 2017 - Visiting the Zaatari refugee camp in Jordan that is hosting about 80,000 Syrian refugees, the United Nations chief urged the parties to the conflict in Syria and the countries that have influence over them to realize that the crisis is not only a tragedy for Syrian people but also a threat to regional stability and global security.
"Solidarity with Syrian refugees is also a way to be able to express our capacity to guarantee global security. It's not only an act of generosity. It's also an act of enlightened self-interest," he added, noting that by failing to support refugees, groups such as the Islamic State of Iraq and the Levant (ISIL/Da'esh) and al Qaida could use such inactions as arguments to further their own vested interests and put global security at risk. Read more
The number of people driven from their homes by war, persecution or terror has exceeded 60 million for the first time in United Nations history. On average, 24 people were forced to flee every minute in 2015.
The UN Refugee Agency's Global Trends Report shows that there were 65.3 million people displaced at the end of 2015, an increase of more than five million on the previous year. Of those, 21.3 million are refugees, 3.2 million are asylum seekers and 40.8 million are people internally displaced within their own countries.
Three countries are producing half the world's refugees - Syria, Afghanistan and Somalia.
Conflict in Syria forces millions to flee
Since the beginning of the Syrian crisis, more than 4.9 million people have fled the country. Where are they now? Mostly still in the region, in neighbouring countries - with 2.7 million in Turkey, 1.03 million in Lebanon, 657,000 in Jordan, 249,000 in Iraq and 117,000 in Egypt (as at 30 June 2016).
Three quarters of the Syrian refugees are women and children.
There are a further 13.5 million people in need of humanitarian assistance inside Syria, 6.6 million of whom have been internally displaced by the violence.
One million people from Syria applied for asylum in Europe between April 2011 and June 2016.
Children make up just over half of the world's refugees, with many separated from their parents or travelling alone.
While more than one million refugees and migrants arrived in Europe in 2015 via the Mediterranean, the vast majority of the world's refugees are in developing countries in the global south. Turkey was the largest host country with 2.7 million refugees. Lebanon has the highest proportion of refugees compared to its population, with nearly one refugee for every five citizens.
Shared responsibility, solidarity and a compassionate response
The UN Secretary-General, Ban Ki-moon, has repeatedly called for shared responsibility and for leaders to respond with compassion and respect for human rights. In an address to the Austrian Parliament in April 2016, Ban Ki-moon said: "We have a moral, legal and political obligation to help those fleeing war, human rights abuses and persecution."
He has also expressed concern at the hate-filled narrative of intolerance, divisive political rhetoric on asylum and migration issues, rising xenophobia and restrictions on access to asylum in certain regions.
Did you know? One in every 113 people on the planet is now either a refugee, an asylum-seeker or internally displaced.
The terms 'migrants' and 'refugees' are often used interchangeably but there is a difference between the two.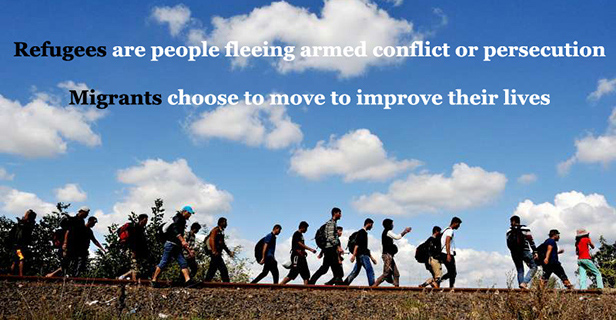 The right to seek asylum from persecution is enshrined in the Universal Declaration of Human Rights, the cornerstone document of international human rights law.
Refugees are protected under the 1951 Refugee Convention which defines a refugee as someone with a well-founded fear of persecution for reasons of race, religion, nationality, political opinion or membership of a particular social group.
Refugees cannot be returned to a country where their lives would be under threat. This is known as the non-refoulement principle. People who have committed a crime against peace or a war crime are not eligible for refugee status.
Under the Refugee Convention, refugees also have the right to work, education, housing, public relief and assistance, access the courts and among other things the right to move freely within the territory. In turn, refugees are required to abide by the laws of their country of asylum.
An asylum seeker is someone seeking sanctuary in another country and to be recognized as a refugee, they must demonstrate that their fear of persecution in their home country is well-founded.
Internally displaced people are those who have fled their homes for the same reasons as refugees but remain in their own country and they are not protected by international law.
The 1951 Refugee Convention, signed by 144 State parties including Austria/Hungary/Slovakia/Slovenia [delete as appropriate], is the legal document that forms the basis of the work of the United Nations High Commissioner for Refugees (UNHCR). The UN Refugee Agency's primary purpose is to lead and co-ordinate international action to protect and assist refugees and resolve refugee problems worldwide.
Migration
Migrants choose to move for many different reasons often to improve their lives by finding work or for education or family reunion. Unlike refugees, migrants could return safely to their own countries.
There were 244 million international migrants in 2015 according to figures compiled by the UN Department of Economic and Social Affairs, Population Division and most of them are of working age, between 20 and 64 years old.
The Refugee situation in Europe
The UN High Commissioner for Refugees, Filippo Grandi, said strong leadership and vision is urgently needed from European leaders to deal with the refugee situation in Europe, which he said was "as much a crisis of European solidarity as it is a refugee crisis".
The UN Refugee Agency has proposed a six-point plan to manage and stabilize the refugee situation in Europe which includes relocating asylum seekers out of Greece and Italy and at the same time, returning individuals who do not qualify for refugee protection; supporting Greece to handle the humanitarian emergency; providing safer, legal ways for refugees to travel to Europe under managed programmes so they do not resort to smugglers and traffickers; and setting up a system for asylum requests to be distributed in an equitable way across European Union Member States.
Refugees are people just like us
Solaf loves sports and dreams of living in America. She survived the war in Syria

Nine-year-old Solaf is a Syrian refugee living with her parents and older brother in Azraq refugee camp in Jordan. Originally from the town of Bosra in southern Syria, she and her family fled to Jordan in 2013 after their home was partially destroyed in a missile strike. Solaf has vivid memories of the conflict in Syria and remembers a missile hitting the roof of her home.

Despite everything she's been through, Solaf is a happy and lively child, who loves playing sports with her friends in the camp, and doing jigsaw puzzles in her family's shelter. She loves helping her mother with the cooking, and rattles off the recipe for her favourite dish of shishbarak - lamb dumplings, cooked in a yoghurt sauce.

 
Mojtaba dreams of finding a cure for cancer
| | | |
| --- | --- | --- |
| Mojtaba was 13 when he escaped from Taliban violence in Afghanistan. The journey to Europe was tough, he said: "I lost my older brother on the way. He drowned on the crossing between Turkey and Greece." After that he had to manage on his own, not knowing who he could trust. He was lucky and came to Austria where he found a family who supported him. Now he is studying molecular biology at university in Vienna and is working towards a future career in cancer research. |   | |
Read more refugee stories here.
Mohamad has entertained refugees arriving in Hungary with his card tricks
Twenty-one year old Mohamad came with his family to Budapest from Syria in 2013. They left after a huge bomb exploded right by their house in Damascus. His father had been a medical student in Budapest in communist times. Although he had a thriving practice in Syria, he has had to retake exams to meet Hungarian qualification requirements. Mohamad, whose hobby is doing magic tricks, is working 10 hours a day, six days a week in a supermarket before taking up a place at Budapest's Metropolitan University to study animation.
He says he wants to use animation to tell stories: "The refugees are not numbers. Everyone has a story. All of these people had a house, a car, friends. They had a life. People in Europe ask, 'How did you used to live in Syria?' and I say, 'Just like you'."