Press Releases
UNIS/INF/165
19 September 2006
You Win in Sports, We Give You an Award for Peace  
BUCHAREST, 18 September (UN Information Centre) -- For the first time in Romania and around the world, the International Day of Peace will be observed with a Sports Festival. Co-patronized by the President of Romania and the UN System in Romania,  "Pace prin Sport" ("Peace through Sports") will take place on the 23rd and 24th of September at the National Stadium "Lia Manoliu" in Bucharest.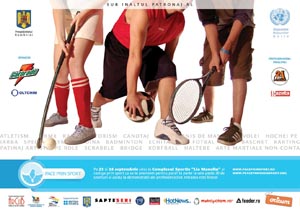 "Peace through Sport" is everyone's event - children, parents, grandparents, men and women - and is dedicated to all people who enjoy their life and who wish to contribute to a sustainable peace. Every person who will win in sports will be offered an award for peace. All that needs to be done is participating in any competition organized during the two-day festival: rowing, badminton, grass hockey, radio communication (Morse), softball, roller, bridge, koftball, cycling, athletics and many others. On Saturday, 23 September, at 13:30, there would be a formal "Vote for Sports / Vote for Peace" ceremony, all diplomatic missions accredited in Bucharest being invited to attend. Ambassadors, diplomatic corps, Romanian officials, national and world champions, as well as all other participants, will be asked to leave their left-hand print on specially dedicated displays. After the event, these displays will be donated to the Sports Museum in Bucharest. Sunday, the second day of the event, the organizers and the Gendarmerie of Bucharest invite you to attend a horse and dog parade, to a fanfare concert and to participate in other competitions.
"Sport teaches all of us, and especially youngsters, how to value essential things such as respect for one's opponent, for the rules of a game, for a decision that comes from a referee. It teaches that sometimes a victory is not just the trophy, but the hard work behind it. It also teaches that you are stronger if you are supported by your team mates and if all of you are rowing in the same direction. Sport can prevent conflicts by promoting the essential and universal values and principles that contribute to development", said Ms. Soknan Han Jung, UN Resident Coordinator in Romania.
Mr. Octiavian Bellu, Special Adviser to the President of Romania and former coach of the Romanian gym team winner of the Olympic Games, said: "Sports is definitely a solution to any conflict. It cannot, however, put an end to a war. But why fighting when we can spend our energy on the sport ground?"
Razvan Crisan, executive manager of ORICUM (co-organizer NGO), said: "In today's world, torn by conflicts, we simply cannot be careless. Even if peace is not something that we perceive easily, its absence is felt right away. We wish to highlight how important is the peace. We wish to show Romanian people that we can be competitive without being violent".
"Pace prin Sport" is jointly organized by the UN Information Centre and ORICUM (an NGO for youth), with the support from the Bucharest Municipality, National Agency for Sports, British Council, National Olympics Committee, and Bucharest Gendarmerie. The event will benefit from the presence of 25 national sport federations and is generously sponsored by Gatorade and Oltchim. Media partners are Radio 21, Gazeta Sporturilor, Sapte Seri, TimeOut Bucuresti, Hotnews.ro,  Feeder.ro si Metropotam.
* *** *
For more information, please visit www.peacethroughsport.org   or  contact Cristina Balan, UNIC Bucharest  Information Officer , tel 0723 20 78 73, email cristina.balan@undp.org .