Press Releases
UNIS/VIC/145
27 July 2006
United Nations Newest Member State, Montenegro, Raises Its Flag at Vienna International Centre
VIENNA, 27 July (UN Information Service) -- The Republic of Montenegro was welcomed into the United Nations fold at a flag-raising ceremony at the United Nations in Vienna today.
The flag of the newest Member State was raised on the Plaza at the Vienna International Centre in a ceremony to mark the admission of Montenegro as t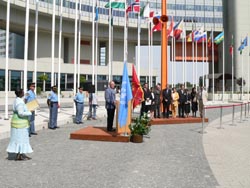 he 192nd Member State of the United Na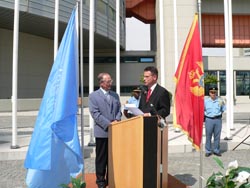 tions.
The Director-General of the United Nations Office at Vienna, Antonio Maria Costa, congratulated Montenegro and quoting from the remarks made by the United Nations Secretary-General Kofi Annan at a similar event held in New York on 28 June said: "In achieving its independence through a non-violent and democratic process, conducted in a fair and open way, Montenegro showed the entire world not only its patience, but its political maturity. 
"The people of Montenegro demonstrated that adherence to democratic values and the rule of law offer the most effective way to achieve political goals.  And they showed that even the most difficult and sensitive problems can be resolved peacefully.  These are especially important messages given the recent violent past in the Balkan region."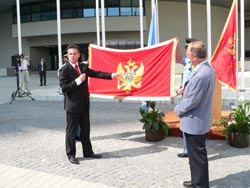 The new Permanent Representative of Montenegro to the United Nations (Vienna), Vesko Garčević, who presented his credentials at the event, said it was an historical moment for his country and he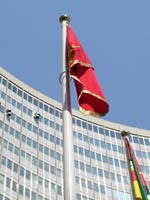 was privileged and honoured to be there today: "I would not hide my personal happiness and pride at becoming the 192nd Member State of the UN, the global and universal organization with a solemn purpose, as set forth in its charter, to maintain international peace and security, develop friendly relations among nations and promote respect for human rights and fundamental freedoms."
Montenegro was admitted as the 192nd Member State by a General Assembly resolution adopted by acclamation on 28 June 2006, upon recommendation by the Security Council.
The people of Montenegro voted for independence in a referendum held on 3 June 2006.
Diplomats, senior officials, representatives of the media and the public were present at today's event at the Vienna International Centre.
* *** *
For further information:
Anne Thomas, Information Officer
United Nations Information Service Vienna
Tel.: +43 1 260 60 5693
Email: anne.thomas@unvienna.org