Press Releases
For information only - not an official document
UNIS/INF/397
25 February 2011
The United Nations and Austria Longstanding Partners for Human Security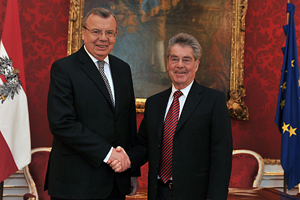 VIENNA, 25 February (UN Information Service) - "The Government of Austria has shown an enduring and admirable support for the United Nations and our work in Vienna," Yury Fedotov, Director-General of the United Nations Office at Vienna (UNOV), said in a meeting with the Federal President of the Republic of Austria, Heinz Fischer, at the Hofburg Palace in Vienna on 25 February. "The Austrian commitment to multilateralism defined the country's unique role in mediating between East and West in the past, and between the developed and the developing world today."
Vienna, along with New York, Geneva and Nairobi, is one of four headquarters of the United Nations worldwide. More than thirty years ago, the Government of Austria and the City of Vienna handed over the Vienna International Centre (VIC) to the United Nations. Ever since, the Vienna headquarters has become an important centre for addressing topical issues such as nuclear safety or the fight against organized crime.
Today, the VIC houses - among others - the United Nations Office at Vienna (UNOV), the United Nations Office on Drugs and Crime (UNODC), the United Nations Industrial Development Organization (UNIDO), the United Nations Commission for International Trade Law ( UNCITRAL) and the United Nations Office for Outer Space Affairs (UNOOSA), as well as the Preparatory Commission for the Comprehensive Nuclear-Test-Ban Treaty Organization (CTBTO PrepCom) and the International Atomic Energy Agency (IAEA).
Mr. Fedotov and President Fischer discussed the international response to the interconnected global issues of drug trafficking, armed conflict, violence and terrorism, and Mr. Fedotov underlined the importance of Austria's contributions to the work of UNODC to combat illicit drugs and transnational organized crime.
As a longstanding supporter of the United Nations, Austria has served as a non-permanent member of the Security Council three times, most recently in 2009-2010, emphasizing issues of human security. Austria has acted repeatedly as a mediator and has contributed substantially to the further development international law. On 18 April this year, the Vienna Convention on Diplomatic Relations of 1961 marks its 50th anniversary, an international treaty signed in Vienna that defines the framework for diplomatic relations between independent countries.
Mr. Fedotov expressed appreciation for Austria's contribution to the UN peacekeeping community. Since 1960, more than 90,000 Austrian troops have supported UN peacekeeping and humanitarian missions around the world. Today, hundreds of Austrian peacekeepers are helping to restore peace and security in Africa, Asia and Europe.
* *** *
For more information please contact:
Regina Rohrbach
United Nations Information Service (UNIS)
Tel: (+43-1) 26060-3898
Mobile: (+43) 699-1459-3898
E-Mail: Regina.Rohrbach@unvienna.org