Events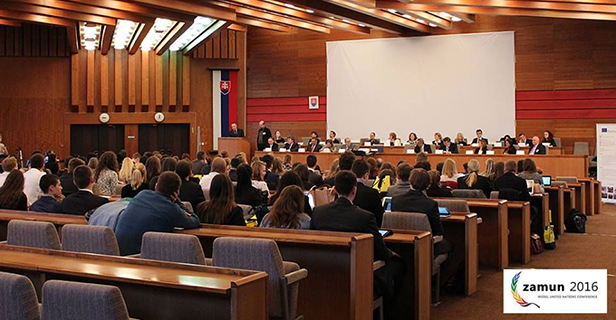 5 th Zilina Model United Nations Conference - ZAMUN 2016
More than 160 secondary school students aged 15 - 20 years from the Czech Republic, Finland, France, Germany, Greece, India, Luxembourg, Netherlands, Palestine, Poland, Slovakia, Spain and Sweden gathered for an academic simulation of different United Nations bodies in Zilina, Northern Slovakia, from 21 to 23 April 2016. The conference is organised every year by students of the bilingual secondary school, Tomasa Ruzicku 3 street, Zilina, in cooperation with the town of Zilina, the Regional Youth Council of Zilina, the United Nations Information Service (UNIS) Vienna and the Association Franco Slovaque FRASK.
Consisting of four English committees ( ZAMUN), two Spanish committees (ESMUN) and one French committee (Frac), the students discussed international issues in English, Spanish and French.  
Partnering with the ZAMUN conference since it was established, UNIS Vienna again supported the conference this year. Addressing the young participants during the opening ceremony, Irene Höglinger-Neiva, Public Information Officer, UNIS Vienna, said that she was impressed by the multilingual and global nature of the conference. She added that the chosen topics including renewable energy, terrorism, youth unemployment, white-collar crime and Syria, were relevant and the most complex and important challenges of our time. She also reminded the students that as of 1January 2016, the Sustainable Development Goals came into force after having been formally adopted at the UN General Assembly in New York in September last year. Young people from around the world not only helped to formulate them but are also going to play a key role in implementing these goals over the next 15 years.