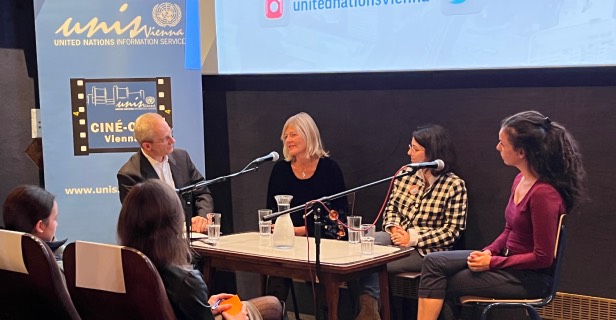 This month's Ciné-ONU Vienna screened "I Am Belmaya", a documentary that features the inspiring story of Belmaya Nepali, the Co-Director of the film, who stood up to her husband and society and reclaimed her voice through filmmaking. Silenced and subjugated most of her life, uneducated Belmaya took up the movie camera to tell her own story.
The screening was organized by the United Nations Information Service (UNIS) Vienna in cooperation with the Permanent Missions of Nepal and United Kingdom to the United Nations (Vienna). In her opening remarks, Dr. Illa Mainali, Deputy Chief of Mission of the Permanent Mission of Nepal to the UN (Vienna), underlined how proud her country is of Belmaya and how she brought about change in society.
The documentary was followed by a panel discussion, with Sue Carpenter, the Director and Producer of the film; Gloria Bozyigit, Board Member of UN Women Austria and Nedjma Ouerdane, Gender Advisor at CARE Austria. The discussion was moderated by UNIS Vienna Director Martin Nesirky.
The panel agreed that the most efficient way to achieve gender equality is giving equal access to education. Bozyigit said that the documentary showed us that if we are aiming to end gender-based violence, the way to do it is by educating not only girls and women, but boys and men as well. Bozyigit also emphasized the importance of the 'HeForShe" initiative that invites men and people of all genders to stand in solidarity with women. Ouerdane emphasized the significance of education by saying that it "sums up so many issues about gender inequality".
"I Am Belmaya" is an inspirational tale of rebellion, courage and hope that also features the making of Belmaya's first short film called "Educate our Daughters". The film has been screened at several film festivals around the world and inspired girls and women in Nepal and abroad.  "Belmaya was unaware of her influence on girls while showing them her documentary 'Educate Our Daughters'. These young school girls were greatly inspired and told her that they would also like to "learn filmmaking, so they can tell their stories," remembered Film Director Carpenter.
As the UN Secretary-General António Guterres said in his opening remarks to the Transforming Education Summit this month, transforming education is essential. Education transforms lives, just as it did for Belmaya.