Employment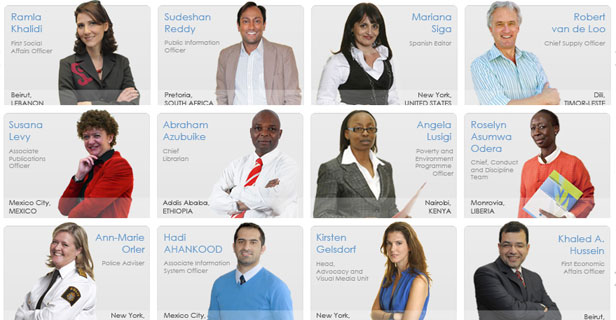 Explore a career with the United Nations Organizations in Vienna
The United Nations Secretariat and the Vienna-based international organizations are looking for competent and motivated people with a strong belief in their purpose and mandates. The United Nations system provides an opportunity to serve in a dynamic, multicultural environment in a variety of jobs in the support of global causes.
The Vienna-based UN Organizations are committed to gender parity and geographical diversity in their workforce.
Employment with UNOV and UNODC and other Vienna-based UN Secretariat entities
All job openings in the UN Secretariat, including those in UNOV, UNODC, UNOOSA and other UN Secretariat entities based in Vienna such as UNROD, ID/OIOS, ITLD/OLA and UNIS, are published on the United Nations Careers Portal ( careers.un.org). Job openings include internationally and locally recruited positions, temporary positions and consultancies.
UN Secretariat Competitive Examinations
The United Nations Secretariat offers the Young Professionals Programme (YPP) as well as examinations for positions requiring special language skills.
The Young Professionals Programme aims to bring fresh talent to the United Nations from un- and under-represented countries and to recognize talent already in the Organization. To be eligible you must hold the nationality of a participating Member State at the time of application, be 32 years or younger, hold a first-level university degree, and be fluent in English or French. More information about the YPP is available here.
Employment with CTBTO
Join us to put an end to nuclear explosions. The CTBTO provides exciting employment opportunities in a rich diverse work environment for high calibre candidates with scientific and technical qualifications, as well as for those with management and non-technical skills. To see all open vacancies at CTBTO please click here.
Employment with the IAEA
The IAEA offers challenging assignments in a stimulating multicultural workplace. It has around 2,500 staff members from over 100 countries with expertise in a variety of scientific, technical, managerial and professional disciplines. IAEA vacancies are posted here.
Employment with UNIDO
UNIDO is determined to support our Member States with the implementation of the Sustainable Development Goals (SDGs), for a better planet and future for us all. But we can only go so far as our people will take us; which is why we place a great emphasis on the employment of talent to keep our workforce efficient and effective. To see all open vacancies at UNIDO please click here.
Warning to Applicants
There are job advertisements and offers that falsely state that they are from the United Nations. Please be aware that the United Nations does not request payment at any stage of the application and review process.