Internships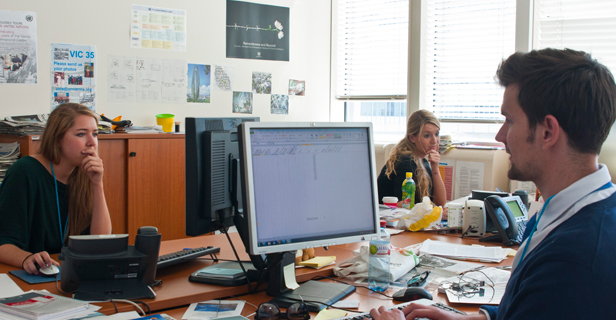 What does it take to be an intern with the UN Information Service in Vienna?
Students of international relations, journalism, public relations and communications or similar fields may be interested in joining the United Nations Information Service (UNIS) Vienna as an intern. What are we looking for: an interest in the work of the United Nations, as well as in how to help the UN spread its messages to the countries we serve: Austria, Hungary, Slovakia and Slovenia. Good written and spoken English is a prerequisite, as English is one of the working languages of the United Nations and a knowledge of German, Hungarian, Slovak or Slovene is desirable.
Current and former interns at the UN Information Service have told us about their internship experience.
"As an outreach intern, you never know what to expect. The work is varied and keeps you on your toes -- just the way I like it! I get to organize events, give presentations, write articles for the website, and generally help out wherever I can. Some highlights have been conducting an interview with a filmmaker for UN Radio, and developing a workshop for schoolchildren on UN70. Working in outreach gives you a sense of how the UN makes a difference in everyday life, by taking you out into the city of Vienna; to universities, cinemas, and even theatres. There's never a boring day!"
Melanie Lyn, Intern in the UNIS Outreach unit from April to June 2015
"As an intern for the news and media section of the United Nations Information Service, I am gaining deep insights into what is happening around the world and how the United Nations works together with journalists. My main task consists of reviewing the most important Austrian newspapers and magazines and compiling a daily press review for colleagues around the world. Besides that, I also draft press releases and assist with translations."
Vanessa Moser, Intern in the UNIS News and Media unit from February to July 2015
"While working with UNIS, I am in charge of gathering and analysing all online and offline media articles related to the 13th UN Crime Congress held in Doha in April 2015. This includes collecting relevant articles, sorting them by language and keywords and finally analysing the topics that the media outlets around the world focused on during the Congress. However, as an intern my tasks cover a wider range of topics. I am helping prepare documents and presentations for senior colleagues, writing articles for the website and attending conferences and meetings of various UN agencies. You might even end up doing an interview with the first person to walk in space 50 years ago!"
Balint Mogyorosi, Intern in the UNIS Strategic Communications unit since May 2015
"Within a week, I went from being a visitor at the UN myself to welcoming them there almost daily. Besides personally meeting groups from all over the world and walks of life, my internship in the Visitors' Service has also included helping out with the tours and lectures programme behind the scenes. Planning the visits, liaising with tour guides, lecturers and guests, writing articles for our website and compiling a press kit on our tour offers - all of these have been invaluable experiences and trained me in event management, communications and public relations. Take this opportunity to do the same!"
Leonie Beck, Intern at the UNIS Visitors Service from February to July 2015