Teachers learn more about UN services and tools for school classes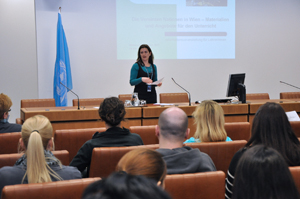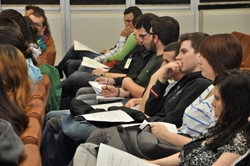 More than 40 practising and future teachers attended an information session on United Nations learning tools and services for teachers and school classes, organized by the United Nations Information Service (UNIS) in Vienna on Wednesday, 16 March 2011, at the Vienna International Centre.
In her welcome remarks UNIS Officer-in-Charge, Sonja Wintersberger, stressed the importance of engaging the next generation for the ideals and the work of the United Nation and welcomed the teachers as crucial partners to reach out to students in UNIS client countries Austria, Hungary, Slovenia and Slovakia.
After an introduction to the work of the United Nations by UNIS Public Information Officer Irene Hoeglinger-Neiva, the participants got an insight into the activities and services for teachers and school classes provided by UNIS Visitors Service.
UNIS Visitors Service Chief, Andraz Melansek, gave practical advice on guided tours at the VIC, special tours on human rights and arts, and the holiday programmes for kids. Participants learned more about how to use online teaching material on the United Nations in general and special learning tools on children's rights.
Students and teachers were also invited to participate in upcoming events and workshops, such as the Vienna School Model UN, the teacher's forum on Human Rights and a public event for school classes on World Refugee Day.
At the end of the event, Ruth Schoeffl of the Office of the United Nations High Commissioner for Refugees (UNHCR) in Austria gave a short introduction to the work of UNHCR and presented teaching material on refugees.
The information session will be followed by practical workshops on the didactic use of UN learning material for teachers offered by UNIS during the winter semester 2011/12 in cooperation with the Paedagogische Hochschule in Vienna