Events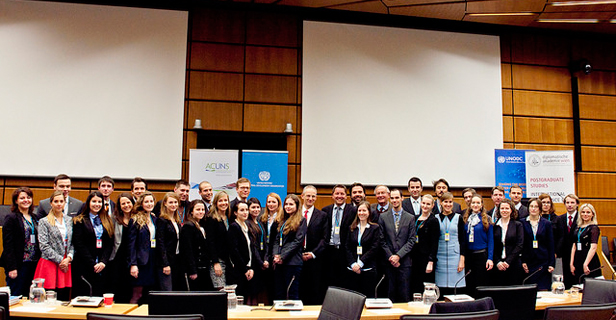 Discussion on the UN Post-2015 Development Agenda and Youth Engagement and Volunteerism
"Young people are no strangers to sharing and discussing the issues that are important to them; we know that they are eager to participate and share their opinions in various traditional and non-traditional outlets," said Ahmad Alhendawi, the Secretary-General's Youth Envoy, in his video message to a youth panel moderated by Martin Nesirky, Director of the UN Information Service in Vienna.
The youth panel on "Youth Engagement and Volunteerism in the UN Post-2015 Development Agenda" was part of the 6 th Annual Conference of the Academic Council on the United Nations System (ACUNS), which took place in Vienna from 14 to 16 January 2015.
Two youth delegates from the Ukrainian delegation to the General Assembly, Viktoriia Shvydchenko and Viktorya Luchka, took part in the panel and described how they cooperated with youth delegates from other countries and underscored the importance of ensuring their voices are heard in New York and beyond.
Volunteerism is universal and strengthens civic engagement, social inclusion, solidarity and ownership. It is also an integral component in the process leading to Sustainable Development Goals (SDGs).
Following the youth panel, the Regional Academy on the United Nations (RAUN) held two working group sessions with 40 participating students on international development and trade and on human rights. These sessions were part of its programme of meetings in several countries. RAUN is a multicultural educational initiative to train an emerging generation of young scholars in topics of importance to the United Nations.
The list of proposed SDGs includes poverty eradication, food security, health, education, inclusive economic growth and industrialization, reducing inequality, safer cities, energy for all, sustainable ecosystems, sustainable natural and marine resources exploitation, combating climate change, and promoting peaceful inclusive societies with access to justice for all, and accountable institutions.
The conference was organized by ACUNS and hosted by the United Nations Industrial Development Organization (UNIDO) and the Ministry of Europe, Integration and Foreign Affairs, with the help of the United Nations Information Service (UNIS) in Vienna.