Events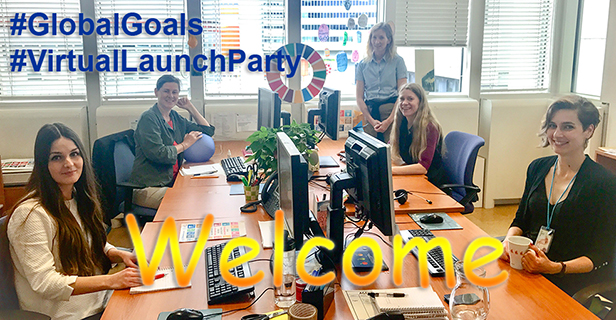 Virtual Party launches new online stories on the work of UN family in Vienna
How is the UN in Vienna helping to achieve the Sustainable Development Goals? You can find out more by looking at the more than sixty online stories showing how the work of the Vienna-based UN organizations contributes to the 17 goals.
To tell people about the new online stories we threw a party to launch the website. The event took place in cyberspace. Colourful invitations posted on Facebook and Twitter invited everyone to join the party on Twitter @UN_Vienna the day the website went live, Monday, 17 July. The Executive Director of the UN Office on Drugs and Crime (UNODC), Yury Fedotov, came along to the virtual party and there were also five special guests from the Vienna-based organizations who answered questions about their work on sustainable development.
The team from UNIS hosted the #VirtualLaunchParty, welcoming all its followers on Twitter to the event and interacting with them during the party. There were quiz questions with followers invited to find the answers on the online stories web pages. By the end of one hour there had been much tweeting, retweeting and liking of tweets with many people having had a chance to check out the online stories.
Partygoers were encouraged to check out the new web pages www.unvienna.org/sdgs and take part in the special 17:17 Quiz.
The buzz from the party helped to raise awareness about the new online platform and show how much work is going on in Vienna to help achieve the Sustainable Development Goals.