Events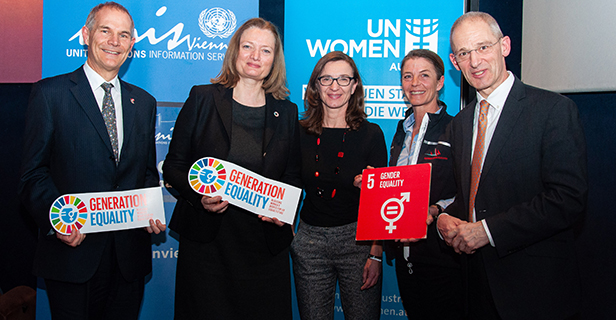 Ciné-ONU screening of "Maiden" to mark the International Women's Day 2020
The monthly Ciné-ONU Vienna screening of March 2020, organized by the UN Information Service Vienna at the local arthouse cinema Topkino, was dedicated to women in male-dominated sports, to mark the International Women's Day. The evening was supported by the Permanent Mission of the United Kingdom to the United Nations (Vienna).
The British documentary 'Maiden' by Alex Holmes tells the inspiring story of Tracy Edwards, a young woman with the dream to sail around the world. She puts together an all-women crew who work on refurbishing a yacht to then compete in the 1989-90 Whitbread Round the World Race. Despite all the resistance and condescension the all-women crew face, they continue to believe in themselves and finally sail around the world as first all-women crew in history. 
Before the screening of the film, opening remarks were made by Martin Nesirky, Director of UNIS Vienna and UK Ambassador Leigh Turner who both especially welcomed the panellists and the members of the Austrian sailing community in the audience. The screening was followed by a panel discussion featuring three experts on women in sports and women in sailing: Désirée Schweitzer, President of the Austrian UN Women National Committee, Sylvia Vogl, Vice-President of the Austrian Sailing Federation and Rosa Diketmüller, Member of the Scientific Advisory Board of 100% Sport - the Austrian Centre for Gender Competence in Sport. UNIS Director Martin Nesirky moderated the discussion.
Ms. Vogl, an Austrian yacht racer who competed in the 2008 Olympic Games, remarked that the film made her emotional because she knows she understood what it was like: "Offshore racing is very hard, the team spirit and the complexity of the sport is something that women can handle very well." Ms. Diketmüller said that high-achieving women typically receive comments devaluing their success and achievements but over time people acknowledge their success. The panellists agreed that women need to be encouraged even more to engage in all kinds of sports. Ms. Schweitzer added that: "We also have to put a spotlight on the gender pay gap in sports."
From the audience, Doris Guttmann from the Blue Water Women's Challenge, Hildegard Etz, certified-skipper and trainer and Anna Tsitsina, first female President of the Vienna International Sailing Club, explained how their engagement aims to empower women in sailing. The cinema room was packed and many of the 110 participants had questions and comments to raise with the panellists. Afterwards members of the Austrian sailing community continued to exchange thoughts and have lively conversations with interested people.