Events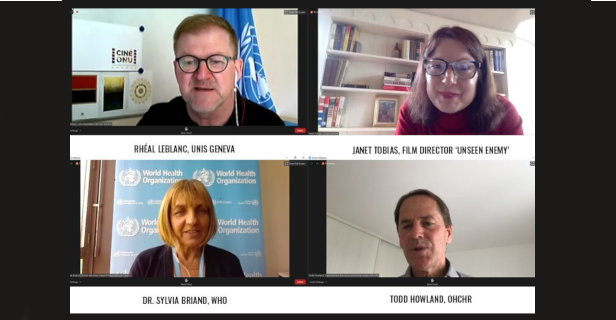 Ciné-ONU in times of a pandemic: the online-screening of 'Unseen Enemy'
This month, the UN Information Service (UNIS) Geneva in collaboration with UN Regional Information Centre (UNRIC) in Brussels and UNIS Vienna organized the first Ciné-ONU online screening.
'Unseen Enemy', the film selected for the occasion, discusses a topic very relevant to the current COVID19 pandemic, one of the most catastrophic global health and economic crisis of our time. The 2017 documentary by American award-winning director Janet Tobias explores lurking viruses and bacteria that have been responsible for the major outbreaks of epidemics of the 21st century, looking at their causes and consequences, as well as how they were and continue to be fought. Some of the world's top experts are interviewed in the documentary discussing the possibilities related to the outbreak of a new global pandemic, which could have potentially devastating consequences, in some way anticipating the situation that we now find ourselves in with the outbreak of COVID19.
On May 8, the first virtual panel discussion in the history of Ciné-ONU took place. It saw the participation of Dr. Sylvie Briand, Director for Global Infectious Hazard Preparedness at the World Health Organization (WHO), Todd Howland, Chief of Development, Economic and Social Issues at the Office of the High Commissioner for Human Rights (OHCHR), and film director Janet Tobias. Rhéal LeBlanc from UNIS Geneva moderated the discussion, taking questions from a large audience of almost 160 people, who joined the virtual event from all across the world with great enthusiasm and interest. Indeed, the very first online screening of Ciné-ONU was highly appreciated and received positive feedback from those who took part in it.
The importance of trust during worldwide virus outbreaks was among the topics discussed during the panel discussion. Indeed, crises of these proportions demand trust in governments, in politics, as well as among citizens. According to the film's director Janet Tobias: "Trust is a cascade. In a society, if one part of it falls down, it will have a ripple effect." The panelists talked about the important role that every single citizen on earth plays during an outbreak and especially in the situation that we are currently facing: "It is important to empower people, everyone is a frontline responder and has a role to play," said Dr. Briand in this regard. Todd Howland then discussed the correlation between health diseases and climate change, highlighting how the COVID19 pandemic should change the perspective that we look at the Sustainable Development Goals from. Lastly, all panelists agreed on the importance of collaboration between the scientific community and political actors and the film director commented: "The scientific community cannot afford to not be involved in public policy".