For information only - not an official document
UNIS/INF/443
26 April 2012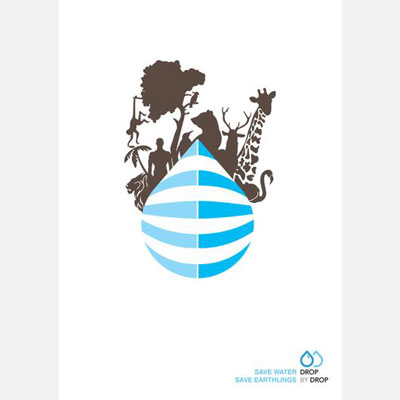 VIENNA, 26 April (UN Information Service) - Eszter Szigethy of Hungary has won the Youth Prize in the Drop by Drop - the Future We Want Ad Competition for her entry Save Earthlings.
The Drop by Drop - the Future We Want Ad Competition was launched on 10 December 2011 by UNRIC, the UN Regional Information Centre in Brussels, in collaboration with UNEP, the UN Environment Programme and UN information offices in Europe with the support of the Nordic Council of Ministers.
In the competition Europeans were asked to create a newspaper ad that inspires others to preserve water now and for future generations.
The winning ad will be used as a public service announcement to be published in major European print media and other outlets.
The Youth Prize, for participants of 25 years old or under, is donated by Fabrica, the Benetton Group communication research centre.
The winner will be invited to an all-inclusive two week course at Fabrica with the possibility of a year long internship.
Mr. Omar Vulpinari, who chose the winner, said the Hungarian designer's contribution had won the award both for the concept and its execution.
"Eszter did a great job of symbolizing the holistic complexity of the theme. The composition that shows only one man in the middle of so many other different earthlings makes me really feel the shame and responsibility on our shoulders. At the same time the design execution is of great quality," Mr. Vulpinari told UNRIC.
In the introduction to her winning entry Szigethy wrote that as Noah protected the animals and plants with his ark, we should do the same.
"The water is our ark, because without it we can't exist. Therefore we have to save the most important element in our life."
The Drop by Drop - Future We Want Competition received 3,500 entries from 45 European countries.
The prize - the Nordic Council of Ministers Award - will be awarded to the overall winner of the competition at a ceremony in Copenhagen on World Environment Day by the Crown Prince of Denmark.
" Save your children" by Turkish graphic designer Toprak Onur won the public vote prize in which nearly 80,000 votes were cast.
Drop by Drop is a part of the United Nations Global Conversation the Future We Want in the run up to the UN's Conference on Sustainable Development Rio+20 in Rio de Janeiro in June this year.
* *** *