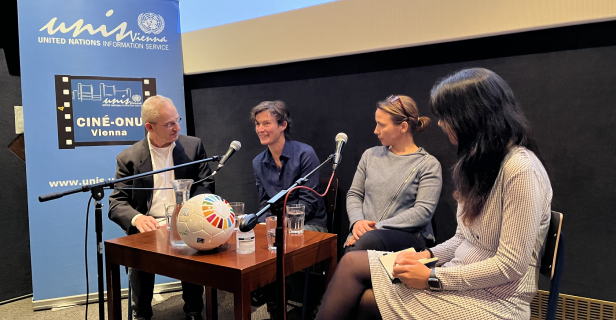 Filmed over five years, 'Freedom Fields' follows the players as the country descends into civil war and the utopian hopes of the Arab Spring begin to fade. Through the eyes of these accidental activists, we see the reality of a country in transition, where the personal stories of love and aspirations collide with history. It is a film about hope, struggle, joy, sisterhood and the power of a team.
The important role that sport – in this case football – can play to empower women and girls was also reflected in comments by Zahra Borhani, Youth Leader and Player at Austrian NGO Kicken ohne Grenzen, who joined the panel discussion after the film. "I feel power, I feel strong whenever I play," said Borhani who sympathized with the challenges the football players in the film had to face: "I completely understand these women, I was also obliged to fight."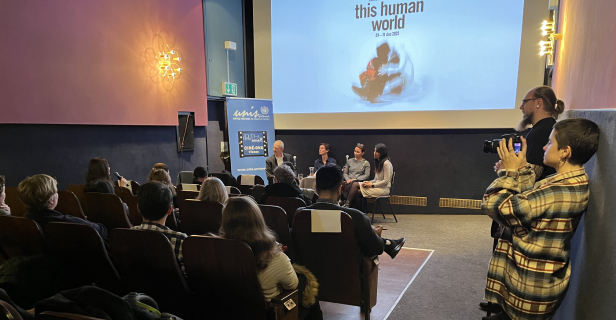 During the discussion, Georgia Dimitropoulou Crime Prevention and Criminal Justice Officer at United Nations Office on Drugs and Crime (UNODC), stressed the importance of how "sport can change and challenge stereotypes". She also noted that the film was about more than sport, as these women were "fighting for change."
Nikola Staritz, Expert on Anti-Discrimination in Sport and Project Manager at fairplay-VIDC, raised the significance of sport in "battling discrimination" and the power of sport in "bringing about change in society". Moreover she mentioned that "if you open up the roles for women, you should also open up the roles for men, namely not every boy wants to play football". The discussion was moderated by UNIS Vienna Director Martin Nesirky who also highlighted the universal nature and power of sports in his opening remarks.
The screening took place at the arthouse cinema Top Kino as part of the International Filmfestival this human world, in cooperation with UNODC's Youth Crime Prevention through Sport Initiative in the Crime Prevention and Criminal Justice Section.