Austria Marks 50 Years of UN Peacekeeping at National Day Festivities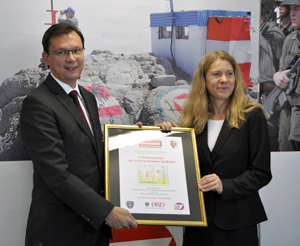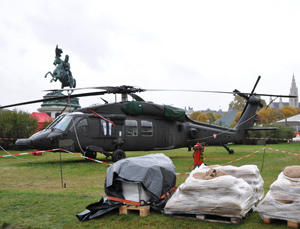 On the occasion of UN Day (24 October) and Austria's National Day (26 October), and celebrating 50 years of Austria's participation in UN peacekeeping missions, Minister of Defense Norbert Darabos presented a stamp sheet designed on the occasion to the United Nations. Representing the Director-General of the United Nations Office at Vienna, Yury Fedotov, Sonja Wintersberger, Deputy to the Director of the UN Information Service (UNIS) in Vienna received the stamp sheet at a press conference at Vienna's Heldenplatz on 25 October, in advance of the national day festivities held there every year. Children from Bosnia and Herzegovina and Kosovo, where Austrian troops are currenly stationed with EULEX and KFOR, had drawn images of their encounters with the Austrian soldiers, which the Austrian State Printing House produced in stamp format.
Since the first Austrian contingent was deployed to the Congo in 1960, Austria has been participating in UN peace missions in the Africa, in the Middle East as well as in the Balkans over the past 50 years. Reflecting on the 50 years of Austrian peacekeeping, Minister Darabos said Austria had made a substantial contribution to UN peacekeeping over the years: "We do not play a secondary role in this, in fact we are very proactive. 90.000 Austrian soldiers provided protection and help when serving in mission."
On behalf of the Director-General of the United Nations Office at Vienna, Sonja Wintersberger thanked Austria for its contribution, emphasizing the important role of Austrian peacekeeping for peace and security in Africa, Asia and Europe. "Austrian peacekeepers make a difference for people. Thanks to them, children can go to school, citizens can walk the streets safely and participate in elections".
Minister Darabos underlined that Austria would continue to support the UN in its peacekeeping efforts, despite current budget cuts, and that, Austrian neutrality and participation in multilateral peace efforts are no contradiction.
The Austrian Armed Forces are presenting their capabilities at Heldenplatz right outside the Viennese Hofburg on 26 and 27 October on the occasion of Austrian National day which is celebrated on 26 October.